---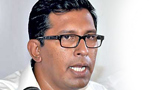 The Jathika Hela Urumaya (JHU) while hailing the passage of the Office of Missing Persons (OMP) Bill in the Parliament on Friday said that the Act should be used to find out the fate of thousands of soldiers and police personnel who had been missing from the camps and police stations in the Northern and Eastern Provinces.
National Organiser and the Western Provincial Councilor of the JHU Nishantha Warnasunghe said today that even many former LTTE cadres who had been released after undergoing rehabilitation would have to be arrested again in order to find out as to what happened to more than 5000 soldiers missing from the army camps in Mullaitivu, Elephant Pass and Kilinochchi as well as more than 600 police personnel who are said to have been butchered by the LTTE after they surrendered to the terrorist organisation.
Warnasinghe while addressing a public meeting in Kurunegala under the theme "Let's lead the country on the correct path without giving in to the defeated corrupt forces" stated that if the Tamil politicians were not prepared to forget the past and march together to the future, past atrocities of the LTTE also have to be investigated.
He asserted that the OMP should be an institution that is responsible to the people of this country and not to Geneva or Brussels. However, he warned that the OMP will reopen the old wounds and rekindle animosity and distrust among communities instead building national unity. "But we can't help. If they want to find out as to what happened in the past, we'll find out." (Pushpakumara Jayaratne)