---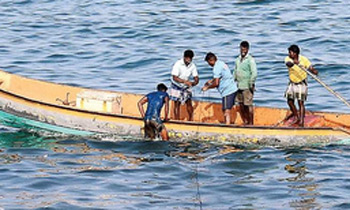 Eighteeen of 38 fishermen from Tamil Nadu, arrested by the Sri Lankan Navy between March 21 and 26, were released by the island nation today and will be handed over to India this afternoon, officials said.
Sri Lankan naval personnel will hand over the fishermen to the Indian Coast Guard at the International Maritime Boundary Line at 12 noon, Rameshwaram 'Q' branch Inspector Kennedy and Assistant Director (Fisheries) Kulangainathan said.
The fishermen would later proceed to Karaikal and reach there by around 4 PM, they said.
On March 21, 10 fishermen were arrested by the Sri Lankan Navy while fishing near Katchatheevu on charges of crossing the IMBL.
The following day, 16 more fishermen from Nagapattinam and Rameswaram districts were arrested in two separate incidents on the same charge. On March 26, 12 fishermen from Pudukottai district were arrested by Sri Lankan navy for allegedly fishing in the island nation's territorial waters. (PTI)