---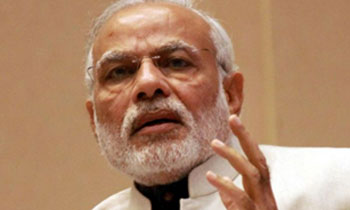 Indian Prime Minister Narendra Modi on Saturday said India attaches great importance to its relations with Sri Lanka and that he looks forward to continue to work closely with the leadership of the island nation to further strengthen and expand bilateral cooperation.
He conveyed this to visiting Sri Lankan Foreign Minister Tilak Marapana when he called on him. Marapana is on a three- day bilateral visit to India.
"Held wide-ranging discussions on India-Sri Lanka ties with SL's Foreign Minister, Mr. Tilak Marapana, the prime minister tweeted later.
Modi congratulated Marapana on assuming his new responsibility as foreign minister and referred to his fruitful visit to that country in May this year for the International Vesak Day, according to a PMO statement.
"The prime minister reaffirmed the high importance that India attaches to its relations with Sri Lanka," the statement said.
Both countries enjoy deep and broad-based ties, it noted.
"The prime minister conveyed (to Marapana) that he looked forward to continue to work closely with the president and the prime minister of Sri Lanka to further strengthen and expand bilateral cooperation," the statement added.(PTI)