---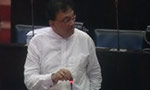 Anura K asks Law and Order Minister to reveal who the 'Sir' is
The controversial cellular phone call to the Police Chief could have been from anybody, House Leader and Minister Lakshman Kiriella told Parliament yesterday.
He said this when Chief Opposition Whip and JVP MP Anura Kumara Dissanayake asked whom the Police Chief was addressing as 'Sir' while answering a cellular phone call he received during an event on the previous day.
"I raised this matter on Thursday but I did not receive an answer. Law and Order Minister should reveal to Parliament whom the Police Chief was addressing as 'Sir'," he said.
"One 'Sir' instructed him not to arrest a Dishan Wickramaratne Gunasekara," the MP said.
"The parliament has a right to know about it. Dishan Gunasekara was the former Basnayake Nilame, a close relative of VVIP family connected to the previous regime. He was also the former acting director and chairman of the Ceylon Mineral Sands Corporation. There are several cases filed against him by the FCID. We want to know whether it is the minister who instructed the IGP not to arrest Mr. Gunasekera. What I believe is that for the IGP the 'Sir' can either be the minister related to the Police or the Prime Minister. So the relevant minister should reveal to the Parliament as to who instructed the IGP not to arrest Dishan."
Mr. Kiriella said the MP is only interpreting an incident and the government is not prepared to answer questions which are based on interpretations.
"The person whom IGP addressed as 'Sir' could be anyone as school teachers are also called Sir. I still call my school teacher sir," the minister said. (Yohan Perera)