---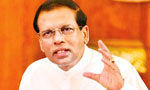 President Maithripala Sirisena said yesterday that he would have allowed the disabled soldiers who were staging a protest on Monday to come into his office had he been in Sri Lanka.
He made this observation at a ceremony to mark the first death anniversary of the social activist and monk, the Ven. Maduluwawe Sobitha Thera at the Sri Lanka Foundation Institute (SLFI) last evening.
"I would have allowed the protesters to come to the Presidential Secretariat and do what they wanted to do if I was in Sri Lanka. I would have sent them a message to this effect if I was informed of the situation," he said.
The president said the protesters had been backed by some political force to act in the way they had.
"These soldiers would not have known who was controlling them," he said, adding that they had only been attacked with water.
"The disabled solders first stated their case eight years ago; but it was referred to us only four months ago. I studied the matter and submitted a paper to Cabinet to meet their demands, which was a difficult task, and the stage was set to grant them what they wanted. Some of the protesters conferred with my officers at the Presidential Secretariat and the matter was settled. The commotion started after these soldiers apprised the protesters who were outside, of the position. However the media and some of those who worked towards bringing us to power had interpreted it in a wrong way and said the government had attacked the war heroes," he said.
Furthermore, he said there was a political force behind the protest by farmers in Dambulla. He said that one protester had even asked the police why they were not attacked.
The President promised that the government would work towards meeting the demands made by the Movement for a Just Society and bring about political reforms. "This government has brought in some reforms in the form of the 19th Amendment to the Constitution. This was a difficult task as the government did not have sufficient numbers in Parliament to see the amendment through. We did our utmost under difficult conditions and with the judiciary saying that some reforms should be approved by the people through a referendum," he said.
Prime Minister Ranil Wickremesinghe said all parties had almost reached a consensus on several aspects of the new Constitution, including power sharing, abolition of the executive presidency, a mixed electoral system, the status of Buddhism, minority communities, religions and language. "All parties have reached agreement on these aspects. We have now to discuss how to bring about stability in the absence of the executive presidency, and whether we should go in for the Westminister system or look for an alternative," he said. He said it had to be decided whether to go for a dual chamber system. "It would be possible to finalise something about the Constitution by the time President Sirisena reaches the second year of his current term," he said. (Yohan Perera)
Video by Sanjeewa