---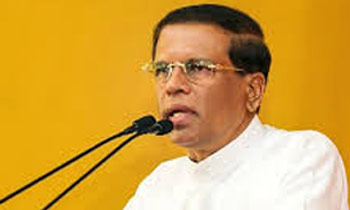 I will not put the blame for conspiracies launched in an uncivilized political climate on university students, said President Maithripala Sirisena in Polonnaruwa yesterday.
He further said that a certain group was trying to portray the government as one that creates an unjust situation for medical students at Government Universities by withdrawing their privileges, pruning free education and trying to mislead them.
The President made this point while addressing a function held at the Polonnaruwa Lankapura Maha Vidyalaya.
Speaking further the President said that while around 250, 000 students sit the Advanced Level Examination every year only about 90, 000 qualify to enter university and out of that only about 25, 000 are admitted to local universities. In order to realize their dreams the balance students go abroad spending huge sums of money in the process.
He emphasised the fact that it was because of this that private universities should also be established in our country to offer quality education according to the standards set by the government so as to ensure that the standards are the same in both these universities and government universities alike.
Every year about 80, 000 students are forced to go abroad for their higher education, and their parents, who are in low income groups, even mortgage their properties to make this dream a reality.
The government has taken a stand that even a non-government university should be allowed to operate according to the standards accepted by the government and during the discussions I had with the university students on the SAITM issue we agreed to make several changes to the courses offered at this institution as requested by them, the President said. (K.G Karunarathne)