---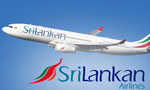 Cabinet approval had been granted for converting the national carrier, SriLankan Air Lines, into a private- public partnership by October this year and the government is looking for a business partner for the airline, Prime Minister Ranil Wickremesinghe announced today.
"Cabinet had decided to defuse economic land mines without allowing them to explode and one of those mines is SriLankan Airlines," the Prime Minister said.
" If we fail to do something about SriLankan which has incurred huge losses, the airline, the economy and the tourist industry will come down," he told a media briefing, stating that the total expenditure of SriLankan Airlines have been US $ 3.5 billion while the total debt of the carrier is US $ 3.2 billion as of today. He said this is a huge burden which cannot be borne by the people.
The Prime Minister said the Cabinet had also decided to cancel the order which was made for four air crafts including the presidential suite. "We have informed the manufacturing company to halt the production of these aircrafts," he said.
While stating that the change would come by October this year, the Prime Minister said a total sum of US$ 202 million is needed to re-vamp both SriLankan and Mihin Air.
Further he said a new Bill will be introduced to Parliament, giving the House the power to control the entity.
Special Projects Minister Dr. Sarath Amunugama who elaborated on the plans with regard to SriLankan Airlines said the ideal arrangement will be to convert the national carrier into a public-private partnership having a 60 percent stake with the government and 40 percent with the private sector. "Emirates were given 40 percent stake of the carrier in 1999 while the government owned 60 percent, but unfortunately the last government took over the 40 percent stake," he said. Also it was assured that the logo of the airline will not be changed.
Responding to a question raised by journalists on Mihin Air, the Prime Minister said the government will deal with both airlines together, but he fell short of stating clearly, as to what would become of Mihin Lanka.
Video by Danushka