---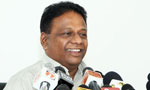 The Government is attempting to postpone the Local Government election by diverting the delimitation committee report to political parties, joint opposition MP Dullas Alahapperuma said today.
He told the media that the five member committee headed by Asoka Peiris would maintain their position and make not changes to the report.
"There is no need to divert the report to political parties," he said.
The five-member delimitation committee comprises Asoka Peiris (Chairman), Prof. P. Balasundaram Pillay, C.N.S.W. Mathew, Upul Kumarapperuma and A.S.M. Misbah.
"The JO did not make any representations to the delimitation committee. As such it is we who should request for a copy of the report to express our views," the MP said. "We have come to know that some politicians in this government had requested this diversion as a tactic to postpone the election."
The delimitation committee report was to be handed over to the subject minister on Tuesday but the Tamil translation had been rejected by the committee secretary because of a technical error.
Provincial Councils and Local Government Minister Faiszer Musthapha had assured Parliament that the elections to the local authorities would be held soon after he received the delimitation-committee report on December 30. (Chaturanga Pradeep)