---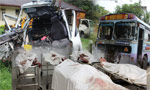 The death toll in the road accident at Ballapana in Galigamuwa on Thursday increased to six when two of the injured who had been under treatment at the Kandy General Hospital succumbed to their injuries, police said.
Three passengers had died on the spot and another after admission to hospital immediately after the accident. A spokesman for the hospital said another, in critical condition, was under treatment.
A group of passengers from Urapola in Nagoda who had been on a visit to Kandy were returning back home when the ill-fated van collided with a private bus.
The victims were identified as Senanayake Mohotti Appuhamilage Atula Shantha Senanayake, T. Ramani Mangalika Peiris, S.M.A. Thisara Gihma Senanayake of one family and their relatives L.A. Chandra Irangani Lokuhetti, S.M.A Dannie Shantha Senanayake and S.W.A. Samith Lakmala Senanayke.
Meanwhile, JMO Kegalle Hospital Dr. Ramesh Alagiyawanna expressed concern about the congestion in the mortuary that compelled him to leave the bodies of the deceased in an open space exposed to elements pending inquest. He said putrefaction of the bodies had already set in.
The JMO further pointed out that one of the two deep freezers in the mortuary had been out of order for about an year, while the other was full with the bodies of those who died in the Aranayake landslide. (Chaminda jayalah and Rohan Kumara)