---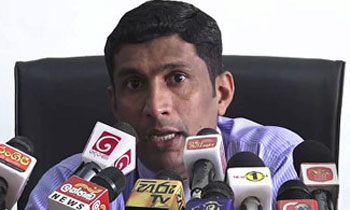 The Government Medical Officers' Association (GMOA) today warned that they would resort to a major trade union action in early May in coalition with over eight trade unions including the University lecturers against the double standards shown by the Health Minister and Higher Education Minister with regards to the running of the South Asian Institute of Technology and Medicine (SAITM).
The GMOA warned that along with University lecturers they would withdraw from examiner duties of the Examination for Registration to Practice Medicine (ERPM) (formally known as ACT16) until the government adopted a set of proposals given by Medical Faculty Heads that has handed to them over a month ago, which could ensure the quality of private medical institutions.
Addressing a press briefing GMOA Secretary Dr. Naveen De Zoysa said Health Minister Rajitha Senaratne and the Higher Education Minister Lakshman Kiriella should stop rescuing the SAITM institute and should work for the benefit of the general public.
"These ministers don't have the technical knowledge to decide the minimum standards that need to be maintained by an institute such as the SAITM institute. They have taken over the responsibilities of the Sri Lanka Medical Council (SLMC) by force," he said.
Dr. De Zoysa said the only institution that should be tasked with finding a solution to this and can be trusted to do so was the SLMC which has persons with the expertise needed for this purpose.
He said the GMOA was at present holding talks with more than eight State sector trade unions and were ready to resort to a countrywide action in early May, thus paralysing the country's State sector and temporally forcing the government to let the Medical Council take a decision on the SAITM issue. (Thilanka Kanakarathna)
Video by Sanjeewa