---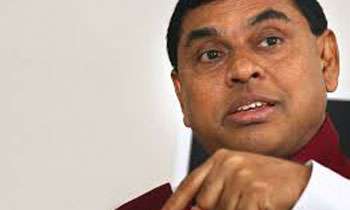 Sri Lanka Podujana Peramuna (SLPP) National Organiser Basil Rajapaksa said yesterday a acceptable decision would be taken about the symbol of the future political coalition led by the SLPP, which would contest upcoming elections.
He said this when a group of SLPP local government members handed him a letter requesting to officially declare the lotus bud or the 'pohottuwa' symbol as the symbol of a future coalition.
Chairman of the SLPP LG members organisation, Udeni Atukorale said regardless of the nature of the alliance, the party symbol should be the lotus bud.
They requested Mr. Rajapaksa to declare the lotus bud as the symbol on February 10, the day on which LG institutions complete one year.
Mr. Rajapaksa said this was the view of many of the SLPP allies.
"All these requests and proposals would be considered by our leader Mahinda Rajapaksa and our allies. They will take a suitable decision," he said and added that he too was of the view that the symbol should be the lotus bud but that the views of the others should also be considered.
"As a party which respects internal democracy, we can't ignore our allies. Last year too, we contested with them at the local government election. We also appointed them chairmen and mayors. They also know the value of the SLPP," he said.(Lahiru Pothmulla)