---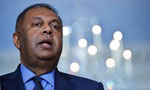 Foreign Minister Mangala Samaraweera said the National Unity Government was now putting in place the framework for democracy, reconciliation and development.
Addressing the Sri Lanka Economic Summit 2016, he said this framework would break-through Sri Lanka's post-Independence malaise of consistently missing opportunities and simply doing too little too late.
"We have made great strides in the areas of democratisation and foreign affairs. We are making progress on reconciliation. The framework for the reconciliation process will be in place once the mechanisms outlined in the Geneva Resolution, which brought us a tsunami of international good will, and the new constitution are implemented. The new constitution will entrench the changes we made under the 100 Day Work Programme and will help ensure that Sri Lanka is truly united and at peace for generations through a constitution that enshrines our multi-cultural, multi-ethnic, multi-lingual and multi-religious character," he said
He said the next major challenge for Sri Lanka was development, particularly generating growth and employment.
"We need to provide a peace dividend to our people; they need to feel that year-by-year their pockets are fuller and their standards of living are better," he added.
Mr. Samaraweera said if Sri Lanka was to truly achieve the breakthrough that Singapore, Korea and the other East Asian Tigers experienced, we need to reform our public enterprises.
"There are three main reasons for this: reforming public enterprise is critical for, one, improving Sri Lankan living standards, two, improving our competitiveness and, three, reducing corruption in politics and government," he said.
"Public enterprises in Sri Lanka are largely loss-making because they are corrupt and inefficient. They suffer from chronic conflicts-of-interest, politicisation and are captured by vested interests. Take the case of Sri Lankan Airlines: although the government at the time made it out that the re-nationalisation was an act of nationalistic fervour and portrayed it as a patriotic gesture, the true motivation for the nationalisation was to abuse and use the airline for their whims and fancies," he said.