---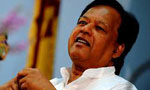 Special Assignment Minister Sarath Amunugama today justified the government's decisions to purchase eight multirole fighter jets to upgrade the Sri Lanka Air Force fleet.
While addressing a media briefing at the SLFP headquarters, the Minister said the minimum number of eight fighter jets was a request made by the Air Force.
"Some may say there is no requirement to purchase fighter jets at the moment. But I disagree. As one of three forces, Air Force must be combat ready and it is required to update the fleet to maintain the oceanic security and to face any unexpected threat. They have to do their rehearsals to keep them up to date with their tactics.
For that, we should make a suitable environment for the pilots," he said responding to a journalist.
"Most of the fighter jets that we have had been used during the war and therefore, the air force had requested eight fighter jets, the Minister said.

"The issues we have due to obtaining loans will not be solved only because new jets were added to the fleet. The loan amount we have to pay is increasing. We cannot continue to toy with the previous government's loans. We will be paying the loans at some point," he said.
The proposal to purchase multirole fighter jets and associated weapons, made by President Maithripala Sirisena in his capacity as the Minister of Defence, was approved by the Cabinet on Tuesday. (Chaturanga Pradeep)