---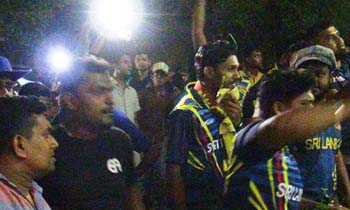 A section of Sri Lankan fans turned hostile and resorted to shouting slogans outside the Sri Lankan team bus after the team suffered a heavy nine wicket defeat against India, with 21 overs to spare at Dambulla on Sunday.
Around 50 fans gathered behind the bus as the players were about to board and began chanting "We want our cricket back." "Bring back brand of cricket we played in 1996."
Riot police had to intervene to clear the fans before the team members boarded the bus and headed towards the team hotel.
Video by Buddhi