---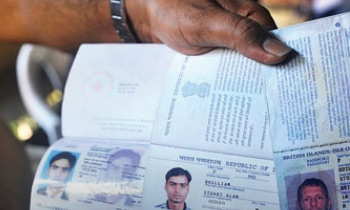 The Indian Police on Friday arrested another Sri Lankan national in connection with the forged passport racket case that was busted by Sahar police in March, arresting a total of eight foreign nationals including four British and four Sri Lankans.
Earlier, four Sri Lankan nationals were held for using forged Indian passports bearing names of four British nationals to travel to the United Kingdom (UK). It was later revealed that the four British nationals were also involved in the racket and had given their identity to the accused.
According to the police, the accused has been identified as Deva Kumaran, who was arrested in Mangalore on Friday by the Mumbai police after the investigation reealed that Kumaran was in touch with the accused arrested earlier in the case.
The police suspect that Kumaran was an agent who would allegedly arrange for forged passports with the help of British citizens to send the Sri Lankan nationals to the UK.
"We have arrested him from Mangalore after we found out he had links with those arrested earlier. We are still investigating his exact role but we strongly suspect that he was the mastermind in the racket. The probe has revealed a few more names that we are investigating," said senior police officer, who is privy to the investigation. The police had also slapped charges of human trafficking against the accused.
Kumaran was produced in the local court on Saturday and has been remanded to police custody till May 9," said Baburao Mukhedkar, Senior Police Inspector of Sahar Police station.
Four Britishers were arrested at Sahar airport on March 15 for allegedly helping four Lankans migrate to the UK by charging Rs 17 Lakh each, using forged passports.The Britishers had also sent two Lankans earlier to the UK.(DNA)