---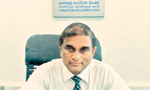 The Financial Crimes Investigation Division (FCID) has handed over files to the Attorney General on an investigation done on default loans at Lankaputhra Bank which had exceeded Rs 2 billion.
Lankaputhra Chairman Lasantha Goonewardena said investigations were carried out by the FCID on 17 individuals and organizations who had defaulted loans worth Rs 2 billion. He said the investigations have revealed that loans have been given without following proper procedures few years ago.
He said statements have been recorded from some of the employees at Lankaputhra Bank and the borrowers.
The usual procedure is that the Attorney General files legal action against the suspects while clearance from the Court is sought by the police to arrest them if necessary.
However, Police spokesman ASP Ruwan Gunasekera said he is not aware of any investigation or any impending action against any suspect. (Yohan Perera)