---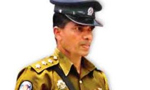 Former Embilipitiya ASP D.W.C Dharmarathna would be reinstated into the Police Service following the approval of the National Police Commission on Thursday, August 4, NPC Secretary told the Daily Mirror.
Dharmarathna was arrested in connection with the death of a 29-year-man in Embilipitiya in February.
NPC Secretary Ariyadasa Corey said the Commission met on Thursday and approved to reinstate ASP Dharmarathna in the service as a response to a recommendation received by the Commission from the IGP.
"According to the Establishment Code, the ASP has the right to request for reinstatement. He had therefore, requested to be reinstated in the service. However, the ASP would be removed from the operational division and would be assigned in a functional division at the Police headquarters," he said.
ASP Dharmarathna was arrested by the Criminal Investigations Department (CID) on February 2 in connection with the death of Sumith Prasanna Jayawardene in Embilipitiya.
He was released on bail by the Embilipitiya Magistrate's Court on June 2.(Darshana Sanjeewa)