---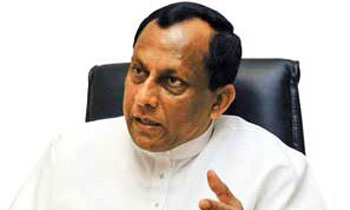 State Minister of Finance Lakshman Yapa Abeywardena yesterday requested all the politicians to refrain from underestimating the Special Presidential Commission of Inquiry to investigate into the controversial Central Bank bond issue.
Minister Abeywardena told a media briefing yesterday that President Maithripala Sirisena has decided to appoint the Commission at the perfect moment and added that the members for the Commission would be appointed next week.
"The President waited so long to appoint the Commission until the debate on the issue commenced in Parliament. He has always taken the correct decision at the correct time," he said.
He said the appointing of this Commission was an honest effort to resolve this issue and no one has the right to criticize the delay of appointing it.
He said the alleged Central Bank bond issue was an unfortunate incident and it was a crime and a betrayal. He also said as a government they had to re-correct these circumstances.
"We hope this Commission will function in an independent manner to fulfil the people's hope and even we have complete faith on it. This Commission will create a name in history if they would do so," he said.
Commenting on the government's decision to gain GSP+ from European Union (EU), he said it was a timely need to increase Export Revenue in the country. He also said the government would have to pay instalments valued at Rs. 3 trillion by 2026.
He said 2018, 2019, 2020 and 2026 will be quite financially disturbed years to the country and added that there was no necessity to hide these facts from people since it was the truth.
"Gaining GSP+ will not risk the native process of the country. Earlier, the country was unable to obtain it with lack of negotiation with the EU. Sri Lanka will almost be a debt-free country after 2026," he said.
Meanwhile, he said the country could witness a 'Peraliyaka Arambuma' only when the SLFP get united. He also said there was a possibility of it happening. (Kalathma Jayawardhane)