---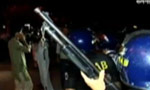 Heavily armed terrorists struck at the heart of Bangladesh's diplomatic zone on Friday night, taking dozens of hostages at a restaurant popular with foreigners. Two police officers were killed and at least 26 people wounded in a gunbattle as security forces cordoned off the area and sought to end the standoff.
Gunfight at the restaurant has reportedly in final stages or perhaps ended and about 8-10 hostages have been rescued by commondos who are reportedly still inside the building.
The number of gunmen and hostages still in the restaurant was not clear, Mizanur Rahman Bhuiyan, a deputy director at the Rapid Action Battalion force, told Reuters.