---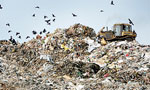 The Megapolis and Western Development Ministry that anticipated the Environmental Impact Assessment (EIA) report to relocate the Meethotamulla garbage yard to the proposed site in Aruwakkalu, Puttalam, stated that there was a delay in shifting the garbage dump.
Secretary to the Ministry N. Rupasinghe said the Ministry was prompted to look for another land in Puttalam for the project as a result of the delay in the EIA report.
Sources said the relevant authorities have proposed a garbage dump yard be constructed in Puttalam to transfer the waste collected in Meethotamulla.
"There is a stream near the proposed land which is delaying the report. The report was to be released in a month and the project was scheduled to begin two months later. We hope to commence the construction immediately after seeking the approval," Rupasinghe said. (Yoshitha Perera)