---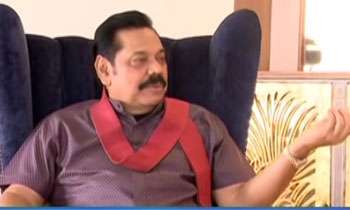 The amount of loans Sri Lanka obtained from China is only about 8 per cent from the total loan amount and the rest of the loans are from the Western and other countries, former President Mahinda Rajapaksa who is in India said.
In an interview with News X, Mr.Rajapaksa said if he is not mistaken, Chinese loans only amounted to 8 per cent.
He said Sri Lankans today complained of lack of development in the country and the previous government was able to initiate many development projects.
When asked whether the Hambantota Port's feasibility study proved to be not viable, he said it was not so.
"Now everybody is interested in it. Not only India, Pakistan or China, everybody wants to come there. It is a very important port. Now they have realised it. Even the US, that's why they are talking about it," he said.
He said the previous government never promised China that the Port will be given to them.
"But this government gave it for 99 year lease. We would have settled the loan obtained for the Hambantota port from earnings of Colombo Port," he said.
When asked about the issues faced by the people of Tamil Community in Sri Lanka, Mr.Rajapaksa said both the regional development and power devolution have to be done.
"We will have to give that. However, Sri Lanka is a small country. We can't just divide it and give them a federal state. That option is out. Unfortunately, the TNA party leaders didn't want to come with me and discuss the issues because they thought Ranil will give them a better deal," he said.
When asked whether he would contest the upcoming presidential election, Mr. Rajapaksa said he has not yet decided whether to contest or not.
"We are looking for a good candidate. If there is no good candidate then I will have to," he said.