---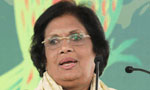 Accusations of human rights violations during the conflict in Sri Lanka must be addressed, ex-president and current Chairperson of the Office for National Unity and Reconciliation Chandrika Bandaranaike Kumaratunga had said on Wednesday.
Addressing the United Nations General Assembly under the theme "Leading by Example — Innovative Partnerships and Responses", Ms. Kumaratunga said the country did not win peace because the Government did not undertake a peace building process.
"After a change of Government, however, the two major political parties were brought together through a common vision. This makes things very easy. Military means are not sufficient to end a conflict. For those reasons, a reconciliation mechanism had been set up working very closely with United Nations agencies," she said.
According to a release published on the UN website, she had said creative programmes had been instituted to change attitudes and equal rights had been accorded to minorities and for that purpose a new Constitution was being drafted with the participation of the former opposition.
"In schools, children of the four major communities were being brought together for the first time in their lives. Young professionals were being brought together in workshops and through arts festivals. Psycho-social support was being provided for those traumatized during the conflict. In districts damaged by conflict, including those dominated by minorities, five-year development plans were being implemented. In addition to United Nations agencies, bilateral partnerships were being developed to support these programmes," she said.