---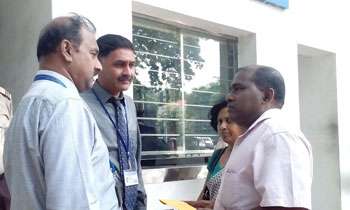 Ceylon Teachers Union (CTU) today handed over a letter to the International Labour Organisation (ILO) Country Office for Sri Lanka against the Cabinet decision to postpone the May Day celebrations to May 7.
Responding to a request made by the Tri-party Maha Nayaka Theras, it was decided to declare May 7 as a public and mercantile holiday this year, instead of May 1, following a Cabinet decision, as Vesak Poya falls on April 29 and 30 this year.
In the letter handed over to ILO, the CTU General Secretary Joseph Stalin said the Cabinet decision was a result of the pressure exerted by majority 'Buddhist lobby groups'.
"Announcing this decision, the government affirmed that the decision to interfere in the age old tradition of the workers was taken due to the demand put forward by the leaders of three Buddhist sects in the country. This disturbing decision comes in the wake of anti-Muslim violence in Central Sri Lanka where the government has not taken any effective steps against the extreme Buddhist monks who were seen inciting violence against ethnic minorities," it said.
The letter also said that the official Vesak Day falls on April 29, two days prior to May Day and the country has no tradition of having a Vesak week.
"Therefore, we urge the ILO to take up this crucial matter with relevant government authorities in order to ensure safety and collective rights of the trade unions who are committed to protect their right to freedom of peaceful assembly on the International Workers' Day," it added.(Thilanka Kanakarathna and Indika Sri Aravinda)