---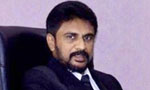 While admitting that Mass Media and Parliamentary Affairs Ministry Secretary Nimal Bopage's statement on the joint opposition was a blunder, Deputy Minister Karunaratne Paranawithana appealed to the media to desist from creating a furor over it.
He said a ministry secretary did not have the authority to issue statements on a personnel view and that the mistake was further aggravated because he had done so on a ministry letter head.
"I believe it to be a genuine mistake without any ulterior motive. But the mistake is a mistake.
Therefore, Mass Media and Parliamentary Affairs Minister Gayantha Karunatilaka has instructed him not to repeat it in future and I expect he will abide by it," the deputy minister said.
He agreed with the journalists that there was a political group describing itself as the joint opposition and that the entire country identified it as a section of the SLFP and as such the media had every right to use the word joint opposition.
Responding to a journalist, the deputy minister said he was not aware of a move to remove Mr. Bopage from his post and added it was up to President Maithripala Sirisena to take a decision on the matter as he was the appointing authority of Ministry Secretaries.
He said no legal action would be taken against any media institution or journalist for using the words 'joint opposition'. (Sandun A Jayasekera)