---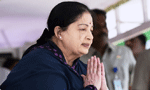 Tamil Nadu Chief Minister Jayalalithaa passed away after suffering a cardiac arrest, Tamil TV channels reported on Monday evening. Violence broke out at Apollo hospital as soon as the news started trickling out, even though the hospital has not put out an official statement to this affect. Even at 6 pm, Apollo hospital dismissed as rumours the reports of Jayalalithaa's death saying she is still alive. The party flag too was flying at half mast at the AIADMK headquarters in Chennai after the reports of her death, but it started flying at full mast after hospital's denial. The chief minister, who has been in Apollo since September 22, had suffered the cardiac arrest on Sunday evening.
The party MLAs are scheduled to meet later this evening apparently to chalk out the next course of action. Though party sources did not reveal the agenda of the meeting scheduled in the evening, they, however, confirmed that the legislators would discuss key matters.
It came as a big setback for her supporters who had been waiting for her to recover from her earlier illness and return to office. The death has left a huge vacuum in Tamil Nadu politics.
The AIADMK chief suffered the cardiac arrest hours after her party told media that she has fully recovered and will be returning home soon.
Born in 1948, Jayalalithaa started her career as an actress in South Indian films. In 1982, she joined the AIADMK, which was founded by her mentor MG Ramachandran. She first became the chief minister of Tamil Nadu in 1991. She has ruled the state for over 15 years. (Source: Indian Express)
Party flag hoisted again at AIADMK HQs in Chennai