---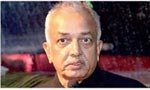 India and Sri Lanka will begin another round of talks on the proposed Economic and Technological Cooperation Agreement (ETCA) on August 9, 2016, Minister of Development Strategies and International Trade, Malik Samarawickrama informed Parliament yesterday.
The minister denied the allegation made by Chief Opposition Whip Anura Kumara Dissanayake that plans were afoot to sign the agreement in August this year. "The talks will begin on August 9 and will be completed only in December," he said.
He assured the House that it would be kept informed on the negotiations pertaining to ETCA. "The final document will be tabled at least one month before the signing," he said.
Mr. Dissanayake said the final document should be tabled at least three months before the signing. "The usual practice of this government is to inform Parliament on important moves at the last moment. But I would like to request that the final document be tabled at least three months before the signing, so that a proper debate could be held and any necessary changes made," he said.
Mr. Dissanayake added that ETCA would not bring top Indian IT experts to Sri Lanka as they were already attracted to Europe and other parts of the world. He said only IT experts of the lowest rank would come to Sri Lanka as a result of ETCA.
However the minister averred that such a thing would not take happen.
Mr. Dissanayake asked whether the oil tanks in Trincomalee and Hambantota would be handed over to the Indian Oil Company or any other private sector organisation, Mr. Samarawickrama said the CPC and the IOC would share the tanks in Trincomalee.
Minister of Petroleum Resources, Chandima Weerakody, who also responded to the question pertaining to oil tanks in Hambantota, said the CPC had been given an oil bunkering licence after 2008. (Yohan Perera and Kelum Bandara)