---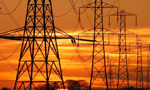 An island-wide power failure was reported a short while ago, the Power and Renewable Energy Ministry said.
Ministry Secretary Dr. Suren Batagoda said the cause of blackout experienced at around 2.15 this afternoon could be due to the tripping of a substation in Biyagama.
He said engineers from the CEB were looking into the matter.
On an earlier occasion a similar power outage occurred causing much uncertainty about the reason for it.