---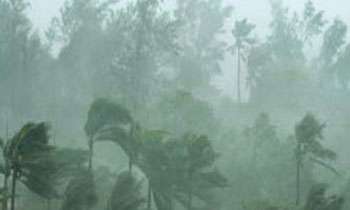 Six persons have died due to the adverse weather conditions that prevailed over the weekend, the Disaster Management Centre (DMC) said yesterday.
One person has drowned in Habaraduwa in the Galle District while another was killed in Mawanella, due to lightning. An individual had drowned in Wallalavita in the Kalutara District. Two more deaths were reported from Matugama and Nagoda. Two people were also reported missing from the Galle and Kalutara Districts. Around 13 houses had been destroyed while 1295 were damaged as a result of the adverse weather.
Heavy rainfall had been reported in several places during the early hours of yesterday with the highest rainfall of 200mm reported from Uswella in the Kandy Kalutara District, 138mm from Bulathsinhala, 124mm from Wallavitha, 64 mm from Katugastota and 39mm from Mannar.
DMC Spokesman said that there had been minor flooding in the Kalutara, Galle and Ratnapura Districts though the weather has improved somewhat now. People living along the banks of Gin, Kalu and Kelani River were asked to be vigilant. Landslide warnings have been issued for the Kalutara, Galle and Badulla Districts.
Meanwhile, the Welipanna entry point of the Southern Expressway had gone underwater.
Around 8000 persons were said to be affected by the adverse weather conditions presently being experienced in the country. The Department of Meteorology said the depression in the South-Eastern Arabian Sea is moving away from the island. However showers were still forecast in the Southern, Central, Sabaragamuwa and Western Provinces. (Yohan Perera)