---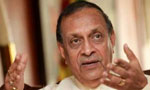 Speaker Karu Jayasuriya said that Buddhist Monks disrobing had become a challenge and that eight monks disrobe each day, thereby affecting the functioning of many temples throughout the country including those in Colombo and the suburbs.
The Speaker was explaining the present malady facing the Buddha Sasana at a Damma Discussion held recently at the Kandegoda Maha Cheithiya Pirivena Temple in Balapitiya coinciding with an event to hand over credentials to the Senior Professor of the Department of Philosophy at the Human Science Faculty of the Kelaniya University, Ven Kandegoda Wimaladhamma Anunayaka Thera, for the Anunayaka position of the Ambagahapitiya sect of the Amarapura Chapter.
The ceremony was held under the patronage of the Chairman of the Amarapura Maha Sanga Sabha, Rajakeeya Panditha Ven. Dodampahala Chadrasiri Nayaka Thera.
The Speaker also said he was sad to note a news item that had appeared in some foreign media outlets about recent events that took place in the country that had brought disgrace to the Sasana. The Nikaya Kathikawatha (convention) was introduced by the government to confer judicial power to the Sanga Sabha on the advice of the Maha Nayaka Theras.
He said even after 90 years the Kathikawatha could not be amended. However, he said this Bill would not be introduced in Parliament.
The world has today recognized the importance of Buddhism as a religion and Sri Lanka has the responsibility of spreading the knowledge of the Dhamma to the world. Buddhism has received state recognition in Austria and US President Barack Obama takes a Buddha Statue with him wherever he goes and engages in meditation. This shows that the important role Buddhism plays in the world, the Speaker said. (S.A.U. De Silva)