---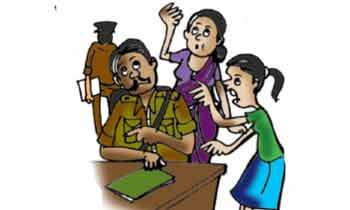 A story of a young man having love affairs with a mother and daughter duo, both at the same time, was reported from a village in the Siyane Korale area.
The mother, a good looking woman, was a teacher who had been separated from her husband and had been living with her daughter. On her way to school one day she had spotted a well-built good looking youth who captured her attention. They started a conversation and from there they fell in love. Phone conversations between the two often lasted for several hours and with that they even started texting and sending each other photos of their activities apart.
Meanwhile, the women's daughter, who was a beauty in her own right, started using her mother's mobile phone. Quite by chance she came across the photos sent to her mother by her mother's new 'catch'. It was love at first sight for her. She too started seeing the young man on the sly. Both the mother and the daughter continued their love affairs keeping it secret from each other.
As the days passed by the teacher began to feel suspicious of her daughter's movements and then discovered that her paramour was having a secret affair with her daughter as well. The youth had sent several photos of her daughter to the mother's phone and while browsing through them she observed some nude photos of her daughter taken by her paramour. Losing her temper, she dragged her daughter and went to the police station, taking her phone with her in order to see that justice was served and the youth taught a lesson by the police.
Seeing the photos on the phone after it was activated by the policeman she became agitated and started blaming the daughter who in return rebuked her saying that she should have been more concerned about her own daughter. The mother, feeling humiliated as a result of this, made a hasty exit from the police station while her daughter exited from the back of the police station in a happy mood. (Ignatius Anthony)