---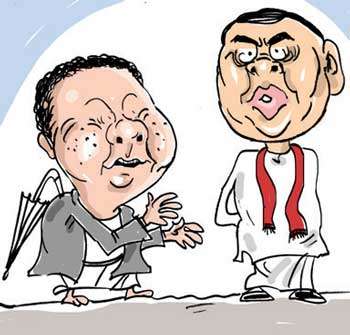 Informal high-level talks are said to be going on behind the scene these days to bring about a rapprochement between the two Diyawanna factions of the Blue Party.

The one playing the main mediator role to unify the two factions is said to be Senior Bee from the central hills and all his efforts are now concentrated on winning over the Pohottuwa architect, who is said to be the main stumbling block to the move.

The arch-mediator had occasion to rendezvous with the Pohottuwa architect soon after the latter's premature return from his vacation in Europe and used all his persuasive powers not sparing any trick in his political bag to get him on board with the peace move. However, the Pohottuwa architect had been cagey from the very outset and kept holding all his cards close to his chest.

Meanwhile, the Pohottuwa heavyweights have reportedly taken a decision to enter formal negotiations only if certain conditions they were to put down initially were met, they say.

Meanwhile, another issue, namely, which of the two parties, Pohottuwa or the Blue party should be conceded the right to nominate a candidate for the upcoming big poll has set a major poser to the leadership of both parties, informed sources say.