---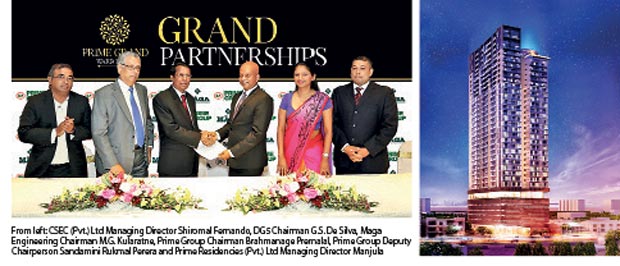 Prime Group, the leading Sri Lankan property giant, announced the awarding of the contract for construction of its iconic property Prime Grand, Ward Place to renowned construction entity Maga Engineering at a ceremony held at the Prime Grand Display Suite and Sales Gallery recently.
Prior to the awarding of the contract, an extensive evaluation process was carried out by Prime Group in collaboration with the project consultants, where the top five firms in the industry, including a Fortune 500 listed entity, were given the opportunity to bid for the project.

Prime Group intends finalising all details pertaining to the implementation of the project work by end October. Construction work is set commence subsequently.

The ceremony was graced by Prime Group Chairman Brahmanage Premalal and Maga Engineering Chairman M.G. Kularatne, along with the Prime Grand team, the consultants and the team from Maga. Speaking at the ceremony, Brahmanage Premalal said: "This is indeed a significant moment for Prime Group and the jewel in our crown – Prime Grand, Ward Place. It gives us great confidence that our partner for the completion of Prime Grand, Ward Place is Maga Engineering, the leading construction firm in the country."

"We are very pleased to have been awarded the contract for Prime Grand. This is a true reflection to our expertise and reputation as a large-scale builder in the construction industry. We are happy that Prime Group placed their trust in us to build to deliver this prestigious project," Maga Engineering Chairman M.G. Kularatne added.

The tallest development in Colombo 7, Prime Grand is set to become the residential address of choice, features 316 apartments of varying configurations, ranging from two-bedrooms to ultra-exclusive penthouses.

Having broken ground on the sixth December 2016, Prime Grand is due for completion by end 2020.