---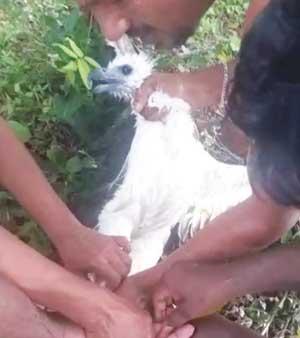 By Thusitha Kumara De Silva
Beruwala Urban Council Member Sajith Devapriya who attempted to save a hawk which was entangled in the string of a kite came under attack by the hawk.

The UC member while attending a function on the banks of the Aturuwella canal in Bentota had noticed a hawk entangled in the string of a kite. He had got into the canal which is known to be teeming with crocodiles and attempted to save the hawk. However, the hawk had attacked him with its sharp beak causing him injuries.

The hawk was about 4ft long with out stretched wings and weighed about 25kilos. The UC member Devapriya said that he was pleased that he could save the bird and set it free even though he received injuries.