---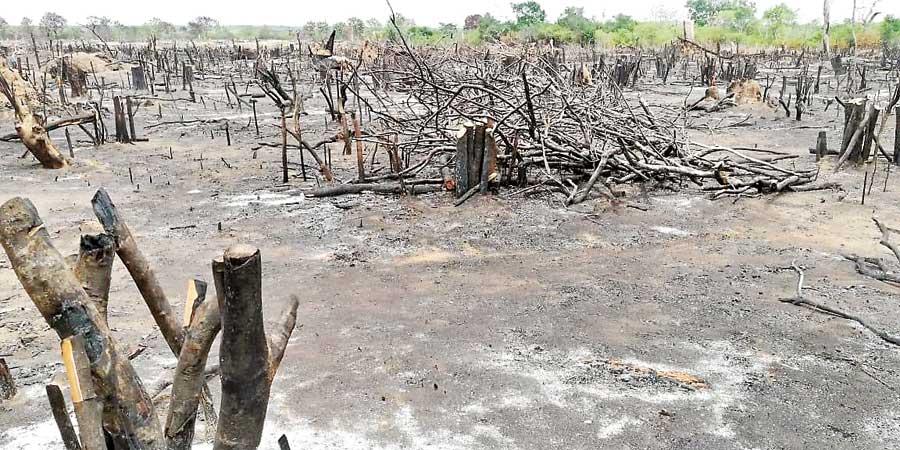 NWPEA to file legal action
Environmentalists claim that officials have turned a blind eye
Nobody arrested yet
Enough legal provisions in place to sue the responsible party
Days after the Anawilundawa Ramsar Wetland, situated in Puttalam District, made headlines over an illegal clearance, nearly 100 acres of forest area was reportedly destroyed in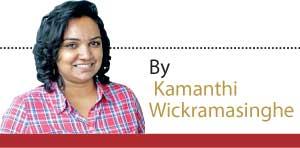 Kuratiyamohotte area in Eluwankulama, Wanathawilluwa, also in the Puttalam District. With the absence of a responsible party who claims to have done the destruction it makes Sri Lanka's rich biodiversity more vulnerable to damage. In fact Sri Lanka's dry zone occupies three-quarters of the island. Therefore environmentalists claim that protecting dry zone forests is particularly important. But with ad hoc mechanisms to clear forest lands such as the revoking of the 5/2001 circular, Sri Lanka will have to bear the risk in losing many of her endemic Flora and fauna.
As such the Daily Mirror takes a look at the Wanathawilluwa incident, who is responsible and who needs to take action and why dry zone forests need to be protected.
Who's responsible ?
Speaking to the Daily Mirror, Ajith Gihan of Wayamba Voice – an environmental organization in the area said that they were informed about this incident on September 5. "When we reached there around 4.00am a vast area of land was destroyed. Trees were felled and burned and another part is yet to be destroyed in a similar manner. The entire land area is around 6000 acres and they have a railway track to collect limestone from a quarry near the Aruwakkalu landfill site. This track also is in close proximity to the area that has been destroyed. However it is wrong that they have burned the trees and they should ideally be protecting the land they own." said Gihan.
"It is also surprising that development officers and other officials in Mangalapura and Herathkuliya have also turned a blind eye on this incident," he added. "This further raises doubts whether officials were also aware of this incident beforehand." he said.
According to Gihan mass encroachment practices take place in the Puttalam District where most lands coming under the purview of Land Reform Commission are bought and sold out to third parties.
However the Daily Mirror learned that the Puttalam District as a whole is vulnerable to many environmental disasters. Wilpattu was being cleared from one end, an aloe Vera project began at the other end, the Anawilundawa Ramsar Wetland was illegally bulldozed followed by the recent incident. Apart from that mass encroachment practices are also taking place in this area and it is rumored that this attempt could possibly be one of that.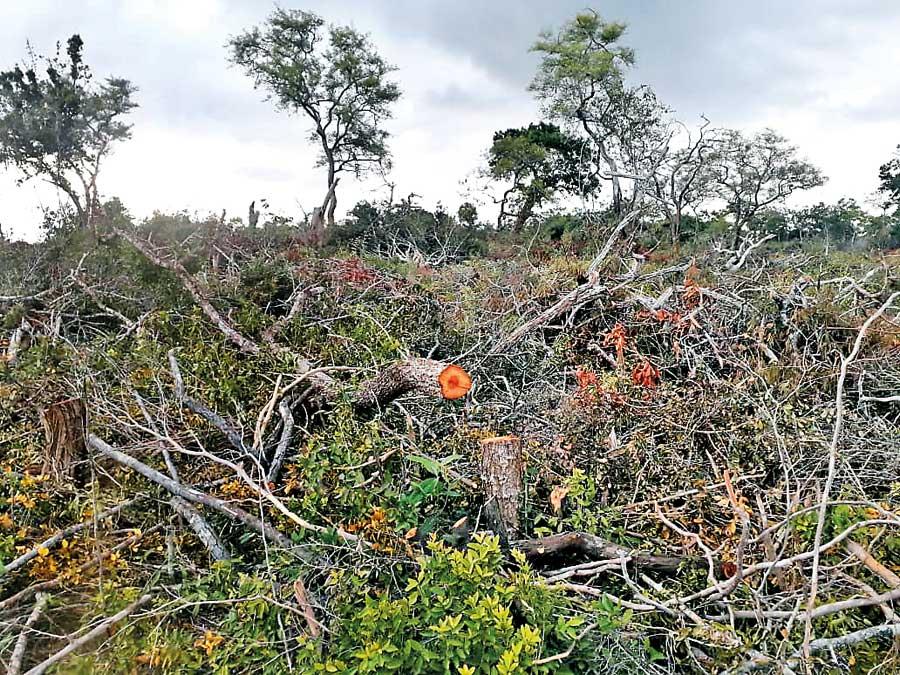 Another area of the same land where trees were felled for burning
Who will take action?
Since it was a land owned by the Cement Corporation, authorities are of the view that they cannot take action. "This is neither a state land nor a forest land. Therefore it doesn't come under our purview," said Wanathawilluwa Divisional Secretary Chathuraka Jayasinghe.
Echoing similar sentiments, Puttalam District Secretary Chandrasiri Bandara said that people are continuing to fell trees and encroach to lands in these areas. "But since this particular incident happened in a private land we cannot take any action. We have to check if a third party has done it and investigations are on the way." said Bandara.
When contacted, Forest Department Conservator General W. A. C Weragoda said that since the land doesn't come under the Department they cannot take any action. "The Land was given to the Cement Corporation in 1970s and was gazetted. Ideally people cannot destroy a land area more than one hectare and if they are doing that they should do an EIA first. But investigations are currently underway." said Weragoda.
The legal background
According to a 2018 Audit Report the Aruwakkalu Limestone Deposit spanning 5,423 acres, 2 roods and 36 perches in extent locates in the Puttalam District vested with the Cement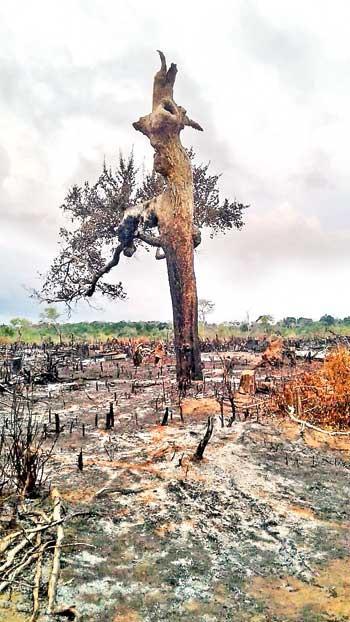 Standing tall against all odds
Corporation by Gazette Notification No. 283/2 of September 20, 1977 has been recorded as 5,352 acress in extent. It further states that this land had been leased out to Holcim Lanka Ltd. (at present Siam City Cement (Lanka)) for a period of 50 years.
According to senior environmental lawyer Jagath Gunawardena if it's a state land then it comes under the purview of the Forest Conservation Ordinance and the Forest Department has the authority to apprehend culprits under Section 20. "According to the National Environment Act (NEA) according to Section 23 AA together with Gazette Extraordinary No. 772/22 of 24 June 1993, if an area of more than one hectare is being cleared it is a prescribed project that needs to be approved by conducting an EIA before the project is done. This is regardless of any other provision of any other enactment." said Gunawardena.
But Gunawardena pointed out a small hitch. "The Puttalam District is in the North Western Province and there is what is called the North Western Provincial Environmental Statute. According to this statute the North Western Provincial Environmental Authority was established and it should have concurrent powers as the Central Environmental Authority. If they claim that they have sole authority over environmental issues happening in their area then they have to execute it. According to Section 51 of this statute if there's a project that is threatening the environment they can get a court order from the nearest magistrate court and put an injunction to stop the project." said Gunawardena.
He further said that since this Authority is already in the province and because they have a specific role to look into environmental issues and because they claim they have sole authority over these issues they can exercise their powers.
When asked about burning of trees Gunawardena said that who ever who is responsible could be sued for damage. "Under Section 24 B of the NEA a directive could be issued to sue the party responsible. This is included in Section 51 of the Statute as well." added Gunawardena.
Pending legal action
However, when inquired NWPEA Director Saman Kumara Lenaduwa said that only around 15-20 acres of land was cleared. "We spoke to the Police and they have arrested several people. But we will file legal action for the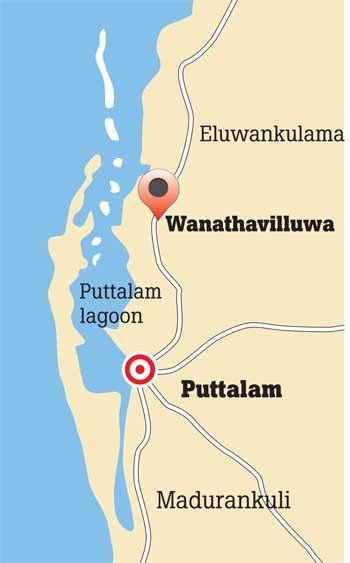 damage done." said Lenaduwa.
Making things even more complicated, the Police media spokesperson's division confirmed that no arrests have been made as yet in relation to this incident.
Why protect dry zone forests?
According to Raveendra Kariyawasam, National Coordinator, Centre for Environmental Studies, this particular area is a dry zone forest cover and includes trees such as Palu, Weera, Nuga and other important species. "This area is an elephant corridor since elephants move from Wilpattu towards Thabbowa and from there to Karuwalagaswewa. This is a specific dry zone forest area because you can't find many old trees. These trees were protected because of the war but provincial politicians were allegedly involved in a mega scale timber racket as they would send this timber to Moratuwa. Initially they felled Kumbuk trees growing near tanks and canals and now they are felling acres of land and burning them." said Kariyawasam.
He further said that this incident could have a possible connection to the 5/2001 circular which was going to be revoked. "Although discussions are still underway there's a chance that people are clearing forest lands to be given away for cultivation purposes. Usually if you're clearing an area of more than two acres people should conduct an EIA according to the National Environment Act. But this area is done without any such approvals. Felling trees and burning them in a 100 acre area cannot be done in a secretive manner. Sri Lanka's dry zone is more vast than the wet zone but the biodiversity is relatively less. People in the Puttalam District experience temperatures as high as 36-380C. Then the tanks dry out. There's a cascade just above Thabbowa tank and these dry zone forests act as catchment areas for the cascade. Sri Lanka is been ranked as a biodiversity hotspot, but the forest cover has reduced from 82% back in 1882 to 16% by 2016. Within this year Sinharaja, Anavilundawa, Wanathawilluwa are already threatened. So we have been given a red alert that in order to maintain Sri Lanka's biodiversity the dry zone forests need to be protected. But since the war has ended whatever the trees that were protected are now being destroyed." said Kariyawasam.
Several attempts to contact the Puttalam Cement Plant proved futile.
Pics courtesy : Ajith Gihan
Environmentalists claim that this area is also part of an elephant corridor