---
Authorities unable to see forest for the trees!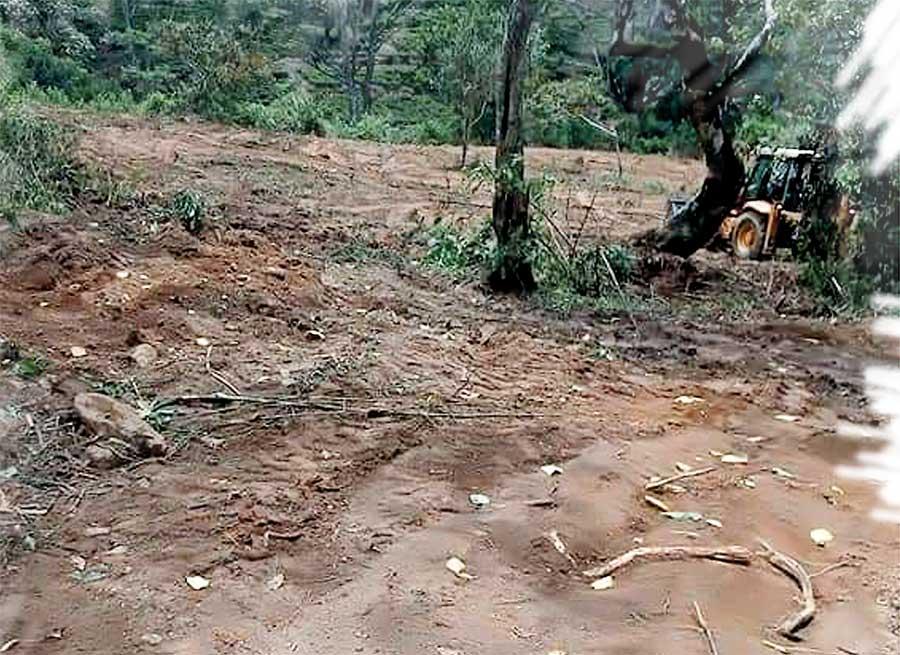 Land clearing taking place in the Knuckles buffer zone
Ongoing developmental activities at Hanthana and Knuckles temporarily halted
Obtaining CEA approval a must
Possibility of landslides and drying up of catchment areas
Forest Dept. to take over private lands in protected areas
Sri Lankans will soon lose their opportunity to boast about the rich biodiversity the land once had. Ad hoc practices such as clearing protected areas, felling and burning down trees have put long established statutes into question.

Therefore, even with laws and ordinances to protect the environment, political affiliation, power and money still stand above all. However, the depletion of forest cover will cause an irreversible damage in the long-run resulting in drying up of catchment areas, animals losing their habitats, mountainous areas being prone to landslides among others. Recently the Hanthana and Knuckles Mountain ranges made headlines with ad hoc land grabs and clearances taking place.
Land acquisition in Hanthana Mountain Range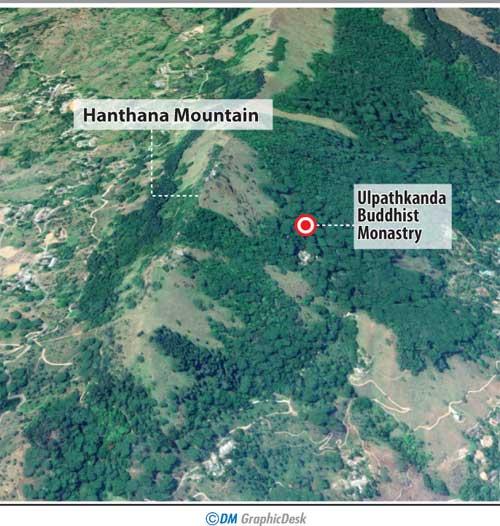 Several areas have already been cleared within the Hanthana (above) and Knuckles (below) mountain ranges for commercial establishments as seen in the two satellite images.
The Hanthana Mountain Range lies in the Central Province and was declared a protected area in February 2010 under the National Environmental Act. This serene destination recently made headlines after Kandy District Samagi Jana Balawegaya (SJB) MP Lakshman Kiriella's name was associated with a land matter. His daughter Chamindrani Kiriella came under heavy scrutiny for clearing a plot of land between the 2500-3000 feet zone within the mountain range. It was alleged that this land area was cleared to set up a cardamom plantation. Responding to media reports, MP Kiriella in an earlier instance said that he had obtained this plot of land from an individual called Andiris Jayasinghe back in November 1990.
Following a complaint filed by the Organisation to Protect Hanthana the Kandy Additional Magistrate noticed several senior Government officials to appear in court. The court therefore ordered Central Environment Authority (CEA) Chairman, Gangawata Korale District Secretary, Central Province Director of the Land Reform Commission, Director General of Wildlife Conservation Department, Range Forest Conservator and the Central Province Land Officer to appear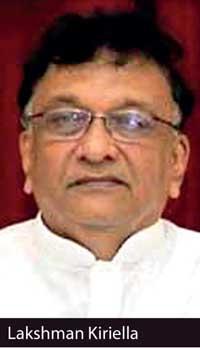 in court today (September 16).
However the Daily Mirror learned that several other parties have already setup various commercial projects in this area in question. "These lands were released by the Land Reform Commission (LRC) and people have started clearing them," said a source who requested anonymity. "The Central Environmental Authority has also demarcated a boundary for the Strict Nature Reserve and some clearances have reached up to this boundary. There is also a settlement in this area and two priests are also at loggerheads, trying to acquire the land. But after five acres of land were cleared the CEA and Police visited this area and ordered to stop ongoing work until all parties reach to an agreement." the source added.
Clear political victimisation
Responding to allegations MP Kiriella said that they have owned this land for over 30 years. "We haven't visited this site for around five years and we recently paid a visit to study the terrain and do some planting. Therefore in order to go there we had to remove the grass and clear the pathway. Under the common law a land owner can enter his land. Earlier some parties said that I'm trying to encroach into state lands. Now they have charged my daughter for cutting the grass. If you go there you can see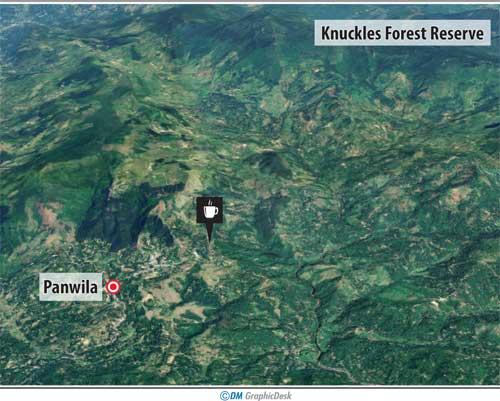 the trees standing tall." said Kiriella.
However Kiriella pointed out that there's a commercial project underway in the adjoining land. "There's a tourist hotel in the guise of an aramaya (monastery) and there are over 15 kutis (Monks' quarters). How come the CEA doesn't see these developments, but is blaming me for entering my land? This is clear political victimisation and although it is said that there's one country one law, it doesn't seem to be the case." he complained.
Threats to the environment
However, clearing these lands are bound to create more environmental issues. "Since this is a catchment area when trees are felled the soil becomes lose and people at the foot of the hill are at risk of experiencing landslides. Apart from that there won't be any water available in the catchment area thereby depriving water to the people as well as the nearby rivers," opined Saminda Vidanage, an environmental activist in the area.
CEA approval a must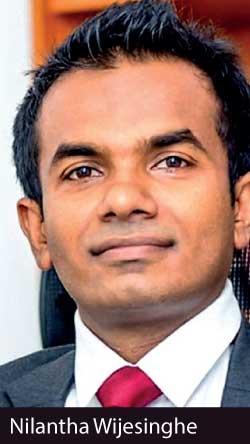 Many land acquisitions are taking place in strict forest reserves and one of the reasons is that these lands were taken over by the state. The Land Reform Law of 1972 created a state agency – the Land Reform Commission (LRC) with authority to expropriate agricultural land above a specified ceiling; 25 acres in the case of paddy land and 50 acres in the case of other agricultural land. According to initial statistics revealed by LRC as many as 563,411 acres of land was given away by 5870 declarants out of which 176,347 acres of land was jungle or uncultivated areas.
"There are many bidders for these lands and around 30,000 acres are yet to be given away to beneficiaries from across the island," said attorney-at-law and LRC Chairman Nilantha Wijesinghe. "Those who obtain these lands can only utilise it to build a house etc., but if they want to start a commercial project they have to obtain permission from the CEA. However, the land in question comes under the purview of the Janatha Estates Development Board and all parties will be meeting in Kandy next week to settle this matter." said Wijesinghe.
CEA to file legal action
The National Environmental Act No. 47 of 1980, Extraordinary Gazette Notification No. 1641/28 dated February 27, 2010 prohibits developmental activities above 3000 feet in the Hanthana Mountain range. Speaking to the Daily Mirror, Central Province CEA Director K. P Welikannage said that approval must be obtained from the Hanthana Management Committee. "However they have sent the application to the GA and have forwarded it to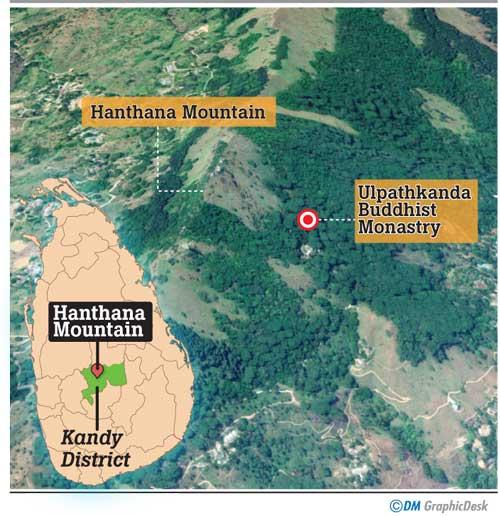 us, but by that time the clearing had begun. The gazette is over 10 years old and many people are aware of it. But we have come to realize that the very people who are aware of it are those who are violating it. This is amidst many awareness campaigns as well. Therefore we are now filing legal action against these people." said Welikannage.
According to Welikannage the Hanthana Mountain range is divided into several zones. "Below 2500 feet is one zone, between 2500-3000 feet is another zone and there's a zone above 3000 feet as well. In this zone people can only maintain the commercial plants such as tea and pepper which already exist. Other than growing natural species people cannot construct houses or do any commercial projects in this area." said Welikannage.
Speaking about the Aramaya (monastery) built adjoining MP Kiriella's land, Welikannage further said that he would inquire about it in detail. "If it was built before the gazette came into place then we cannot do anything about it. But if it had been established afterwards then we will have to conduct an inquiry and find how the priest got the go-ahead", said Welikannage.
What's happening in Knuckles?
The Knuckles Mountain Range spans across Kandy and Matale districts and the Knuckles Conservation Forest was declared a UNESCO World Heritage site in 2010. However this forest too has been under threat for quite some time. According to Vidanage the Forest Department hasn't demarcated the buffer zone and there are several private lands within the buffer zone itself. "But if the owners want to develop these lands they have to obtain CEA approval. Already several lands have been cleared and developments are taking place in Laggala. Some five acres were cleared a few days back and the land owner claims that he possesses all necessary documents. There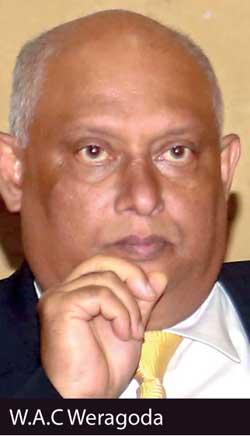 are several hotels being built in close proximity to the buffer zone and this issue is happening all the way until Riverstone and Meemure." said Withanage.

The Daily Mirror also learned that when surveying was being done to demarcate the Conservation Forest for the World Heritage Site, several tea plantations have fallen within the contour. "Jungle areas were separated into blocks and were given away to people after assessments were done," another source revealed on conditions of anonymity. It's a long process. The said land lies within the Panwila Divisional Secretariat and out of 33 acres that were given away, around five acres were cleared for developmental purposes. However, the owner claims to have all documents. But until legal matters are solved the work has been temporarily halted. But say for example if there's a hotel that is being constructed he can do the maintenance work as per the private land
tenure." this source said.
Forest Department's stance
According to Forest Conservator General W.A.C Weragoda, all conservation forests have been declared and gazetted. "But certain private lands fall within the boundaries and we are in the process of identifying environmentally sensitive areas. If private lands overlap in these areas we will provide compensation to the owner and take over the land." said Weragoda.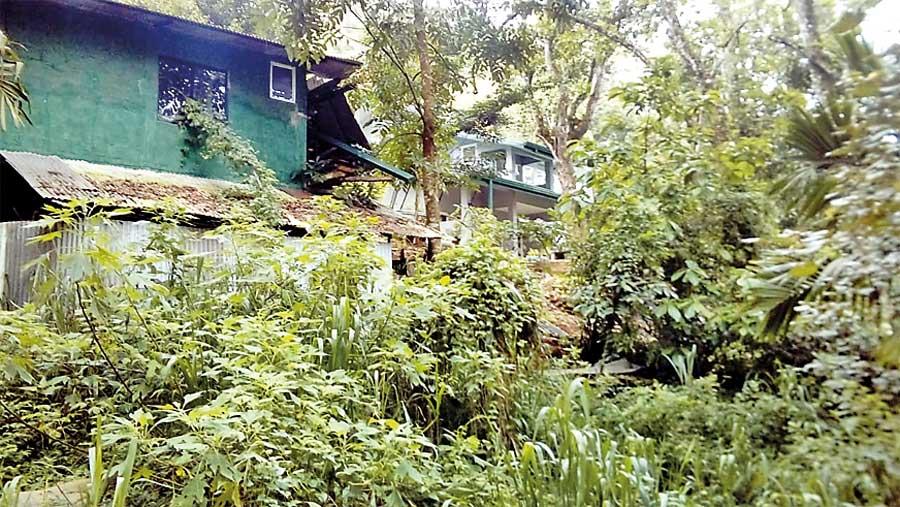 Forest monastery built adjoining MP Kiriella's land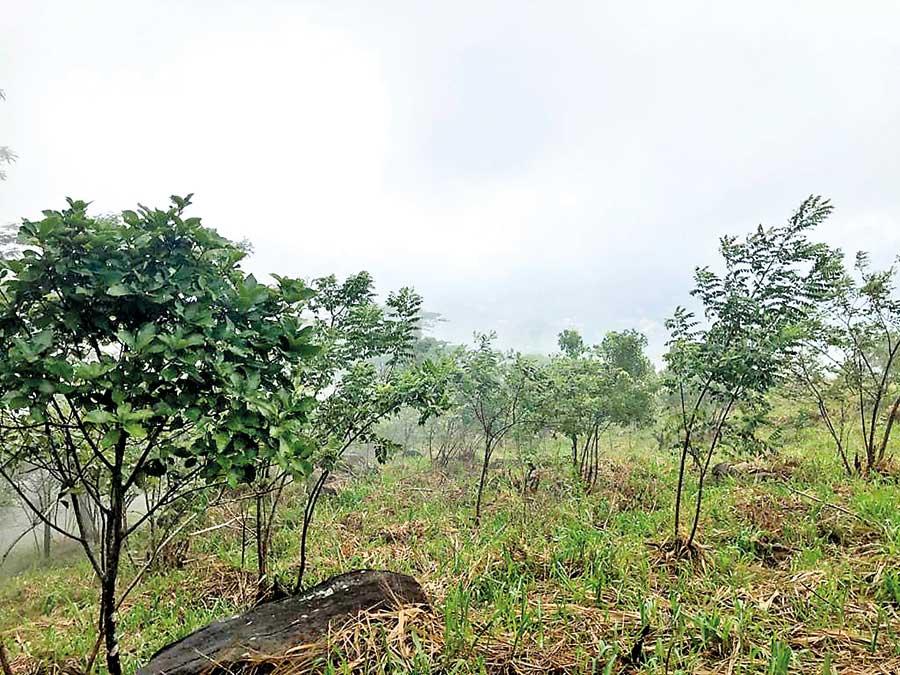 Land owned by MP Kiriella in the Hanthana Mountain Range