---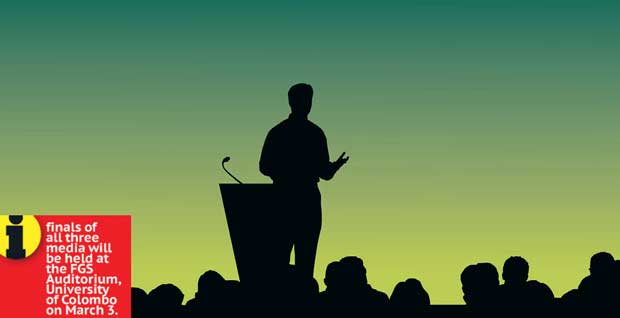 The Moot Court and Debating Society of the Faculty of Law, University of Colombo now host its thirteenth edition of the Faculty of Law Sri Lanka Schools Debating Championship. The championship is held in English, Sinhala and Tamil. The preliminary rounds of the Sinhala and Tamil competition were held on February 17 and 18 while the English competition will be held on February 24 and 25 at Methodist College, Colombo. The break rounds will be held at Royal College, Colombo and the finals of all three media will be held at the FGS Auditorium, University of Colombo on March 3.

This annual event of the Moot Court and Debating Society, now in its thirteenth year, is carried out in the 'World Schools' style of debating. The tournament acts as a platform for budding debaters to engage in healthy debates on a range of current issues, enhance their oratorical and debating skills and expand their knowledge on pressing issues in society. Not only will these skills enhance and aid the students' educational endeavours, but they will also be priceless in their workplaces, in addition to making them important contributors to debates and questions of national interest.

In the past, the competition has been used as a forum to select the team endorsed by the Ministry of Education to represent the nation at the World Schools Debating Championships, the foremost debating competition for secondary school students in the world. This year too, the performances at this tournament will be a basis for selecting the team which will represent Sri Lanka at World Schools Debating Championship 2019.

The Informatics Institute of Technology is the Gold Sponsor for the event this year, while Nestle PLC partners as the Food Sponsor. With over 550 participants having registered from across the Nation, the Organizing Committee is hoping to promote high standards of Debating at the School Level.