---
Natal Solar Month and the Sun sign -Part 3

Mercury rules the Gemini sign. Therefore, people born in the Solar month of Gemini are endowed with mercurial qualities.

Gemini people are physically active and mentally alert. They are fluent speakers and versatile writers.

Good actors and businessmen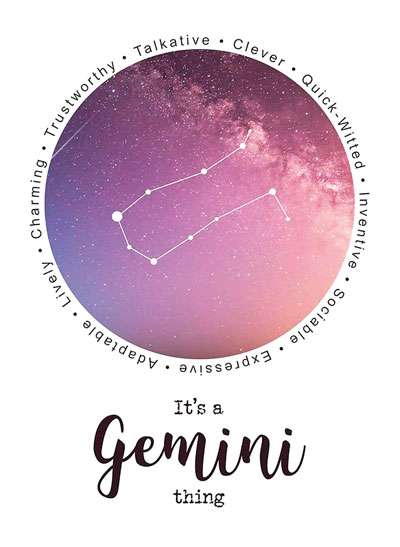 Gemini people are good actors and are clever at mimicking. They make good businessmen as well. They are honest and big-hearted. They are prepared to listen to others. They are sentimental and would have several love affairs simultaneously.

Eminent mathematicians
Gemini people are endowed with abilities in the field of scientific research. They make eminent mathematicians.

The tendency to move from one occupation to another and the lack of singleness of purpose make them jacks of all trades and masters of none.

Disappointment in love life
Gemini people suffer disappointment in love life. They would face many obstacles which would hamper their advancement. If they fail to have a second marriage, they would have a life-long love affair without knowledge of the spouse.

Towards the middle life, they would encounter many obstacles which would hamper their career advancement.

Gemini people can make a success of their life if they can realize their failings through self- appraisal and make an effort to rectify them early in life.

The Gemini sign rules the lungs, hands, the nervous system and a part of the brain. They are prone to bladder trouble and fever.

Ideal life-partner
The Gemini people are advised to marry a person of the same sign one that Libra or Aquarius.