---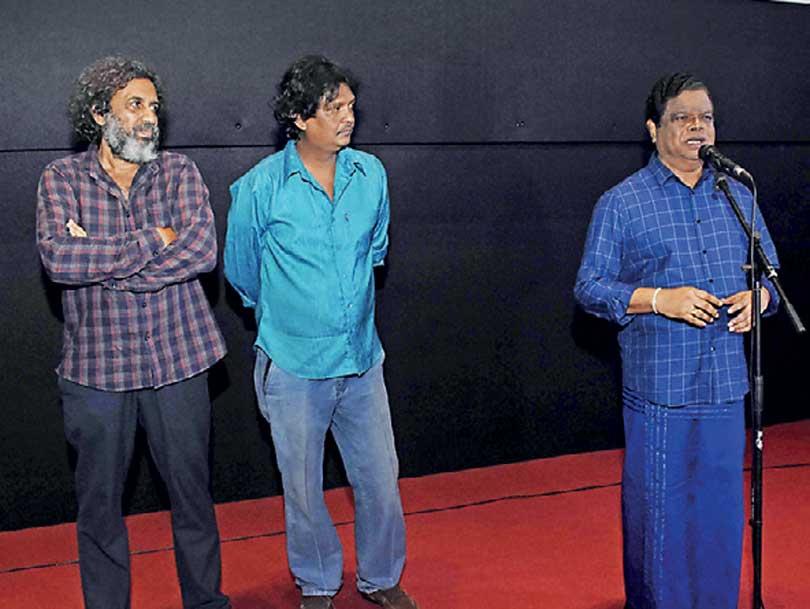 The minister is seen addressing the gathering just prior to the screening of the movie.
Pic by Nimalsiri Edirisinghe
They were kept closed for nearly three months due to the COVID-19 outbreak
By Yohan Perera
Cinemas will open after about three months with the newly released movie, 'The newspaper' which has a few firsts.
Information and Communications Technology Minister Bandula Gunawardene, who is one of the producers of the film, said the media personnel, health workers and the members of the security forces will be allowed to view it free-of-charge while the 10.30 a.m. show will be free of charge to all cinema goers. "Cinemas were closed more than three months due to the COVID-19 pandemic but young directors Sarath Kothalawala and Kumara Thirimandura had taken a bold step to bring alive the cinema industry by getting this film released and to be screened in 100 cinemas across the country," the minister said on Monday at the premiere at the Savoy Theatre.
The story line of the move revolves round an issue pertaining to the media. It actually talks of the damage which is caused by false stories published by the media.
The story line of the movie revolves round an issue pertaining to the media