---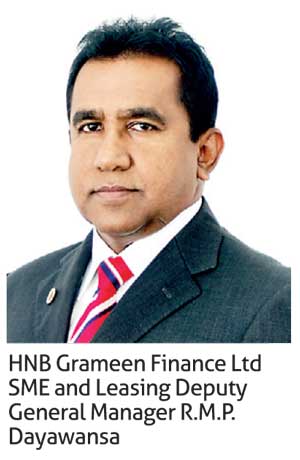 HNB Grameen Finance Ltd recently announced a very attractive leasing package with superior benefits for both registered and unregistered 660cc vehicles.
This promotion will be valid for three months and will offer customers a host of benefits including competitive interest rates, residual value and structured leases, personalised one-day service, doorstep assistance, with vehicles registration and insurance.

During the period of the promotion, HNB Grameen Finance Ltd customers will be offered specially discounted prices, free services, warranties and so on by the official vehicle partners, namely Associated Motorways (Pvt.) Ltd (AMW) and Indra Traders as well as other leading vehicle suppliers across the country.

Commenting on the promotion, HNB Grameen Finance Ltd SME and Leasing Deputy General Manager R.M.P. Dayawansa said: "Over the last few years, we've seen a significant rise in demand for leasing facilities for 660cc vehicles and with the prices of the those, being reduced by the recent budget, we thought it would be timely to lend a helping hand to aspiring customers to realise their dreams."

"660cc vehicles are compact and comfortable mid-range vehicles that are very popular among many because they're fuel efficient and spacious yet carefully designed to not take up too much space on the road. On a national level, we think promoting vehicles in this category is a prudent move which could help with the traffic congestions especially in Colombo and outskirts," he added.

The offer is applicable for the Suzuki Wagon R Premium Hybrid 2017 which is a popular, compact and fuel efficient car manufactured in Japan and comes with a four year warranty period. Similarly, Indra Traders will offer special prices for all 660cc vehicles including a three year warranty and several other benefits to our customers.
More information could be obtained by visiting HNB Grameen Finance Ltd branches and AMW and Indra Traders showrooms islandwide.

HNB Grameen Finance Limited was established in 2000 and is licensed as a registered Finance Company by the Monetary Board of the Central Bank of Sri Lanka under the Finance Business Act No.42 of 2011.

The company pioneered commercial based micro-finance in Sri Lanka, charting a new course for the enterprising but inclusive small scale entrepreneurs of Sri Lanka. It has a wide network of 48 branches and 21 service centres around the country.