---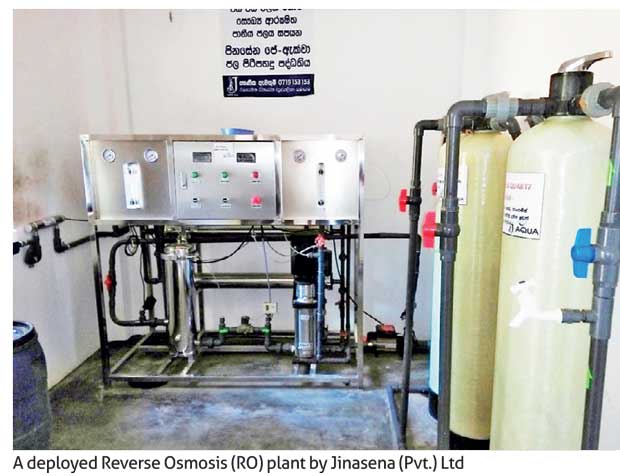 Jinasena (Pvt.) Ltd, one of the leading water management systems and solutions providers in Sri Lanka, has witnessed a surge in the demand for water purification plants in the Chronic Kidney Disease (CKD) affected areas of the island.

Jinasena has extensive experience in deploying large water purification plants in Sri Lanka having ventured into this specialised field back in 2005 in keeping with the vision of Chairman Rohan Jinasena. Over the past three years alone, the company has successfully carried out over 200 water purification plant projects for a variety of organisations in CKD affected areas in North Central, Eastern, Northern, North Western and Central Provinces. At present, the company is handling 88 ongoing projects having completed over 100 projects during 2017. With each water purification plant providing water to up to 300 families to date, the company has successfully provided clean water to over 25,000 families across the island.

All of Jinasena's water purification plant projects have been entrusted to the company for implementation primarily by three sources. The first among them is the Government of Sri Lanka which is spearheading a drive to eradicate CKD from the island. Secondly, are the country's large corporate entities that are supporting the government's effort to fight CKD by carrying out CSR programmes in affected areas. Thirdly, are the local and foreign NGOs who have also joined the battle against CKD in affected communities and villages in rural parts of the island, as part of their development programmes in the country. Additionally, the company has also implemented water purification plants in camps of the tri-forces.

As a water management systems and solutions provider, Jinasena is able to provide solutions for Raw Water Treatment, Waste Water Treatment and Sewage Treatment. The company offers a range of products including Reverse Osmosis (RO) plants, chemical dosing pumps, aeration systems, UV sterilizers, water softeners, iron remove and purifiers together with services that include water filter services, water filter installations and water sample testing. The company carries out potable water sample testing for chemical and physical parameters through two Laboratories in Colombo and Anuradhapura. Both facilities provide full chemical and physical water testing using HATCH (USA) Laboratory equipment and reagents.

The implementation of a water purification solution at Jinasena starts with the testing of a water sample given by the customer at one of the company's state-of-the-art labs. Based on the lab results and the requirement of the customer, the company experts focus on providing a comprehensive solution that includes the necessary infrastructure needed to meet those requirements. The solution is completely designed in-house using only the best items sourced from various partners that they have tied up with. After successful implementation, the company is able to provide a professional after-sales service through 19 Sales Centres around the country. The company entrusts the day-to-day operational aspects of the plants to the Community Based Organisations (CBOs) of each village. With the support of the Jinasena engineers, who visit each and every plant at least once a month, as well as the company's mobile team operating 365 days of the year, the plants are able to run smoothly and provide clean water for hundreds of families in the area.

Expressing his views, Jinasena (Pvt) Ltd Water Purification Sales and Marketing Manager Nalin Ganegoda stated: "We work closely with the Government of Sri Lanka especially with institutions such as the National Water Supply and Drainage Board to implement state projects that have been awarded to us through tender procedures. We have also built a reputation with both local and foreign NGOs as a company that provides long-term water purification solutions that are environmentally-friendly, long-lasting and competitively priced. Large corporates in Sri Lanka have also approached us in recent years to carry out their CSR programmes that are focused on providing clean water to villages and communities in these CKD-affected areas." He added that the company is able to provide excellent after-sales service to each and every plant through their network of 19 sales centres spread across the country. "The key to a successful, long-lasting clean water solution is to win the confidence of the local communities, get them actively involved in the process and support them with reliable, timely after-sales support so that there is an uninterrupted supply of water. I am proud to state that we have been able to achieve success by meeting these key objectives," he claimed.