---
Sri Lanka's key policy interest rates are unlikely to change for the rest of this year despite calls from the International Monetary Fund to tighten the rates further, according to Central Bank Governor Dr.Indrajit Coomaraswamy said.

"The IMF and we have different perceptions often, and we're not always wrong," he told reporters in Colombo following the release of the fifth monetary policy review for this year, yesterday morning.
The Central Bank decided to keep policy rates—for lending and taking deposits from banks—unchanged at 8.75 percent and 7.25 percent, respectively. Statutory Reserve Ratio on commercial banks as also kept unchanged at 7.50 percent.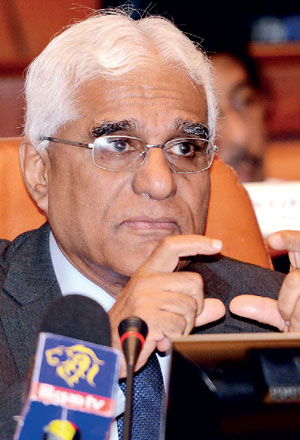 The IMF last month said that inflation and private credit growth was on the higher side.
Dr.Coomaraswamy had for the past year asked observers to be patient, as policy tightening could take up to 12-16 months to take effect.

The past 20 months saw policy rates being tightened by 125 basis points, and the statutory reserve ratio for banks increasing by 150 basis points. The latest tightening came this March, with a 25 basis point increase in key policy rates.

In the past, the Central Bank had also increased policy rates in response to tightening by the US Federal Reserve, in order to keep Sri Lanka attractive for foreign portfolio investments. However Dr. Coomaraswamy said possible future Fed rate hikes are already included in the current local rates.
"We don't go only by that. They're saying there will be one more (Fed) interest rate hike this year, but that's probably baked in probably, I suspect, so I don't anticipate there being significant pressure this year," Dr. Coomaraswamy said.

Describing the current situation as the 'peak' of the interest rate cycle, he noted that market interest rates are adjusting downwards, and most of the macroeconomic indicators have fallen to the levels that were desired when policy tightening was started in late 2015.

"Inflation is where we want it to be, currency is adjusting in an orderly way. The current account is the one area where the outcome is not as good as we initially hoped for but that is due to factors beyond our control," he said. The Central Bank is now focusing on maintaining stable price levels with an inflation target range of 4-6 percent and private credit growth between 15-20 percent, moving away from the politically influenced growth inducing policies in the past.

Inflation increased earlier this year due to supply-side disruptions, although it moderated in June.
Dr. Coomaraswamy said while inflation may rise in the next two months since it would be the first time these months will experience the VAT increase due to the way the legislation was introduced last year, inflation will taper off starting in November, when the base effect from the VAT increase will cease to exist.

"We're fairly confident that it (inflation) will end up at 5 percent or a little above that (by end-2017) and certainly in the first quarter of next year it will come well within our target range and maybe in the bottom half of the target range," he said.

Private credit growth too has slowed down.
However, Dr. Coomarasswamy said that the Central Bank is not working with a target in mind for inflation and private credit to fall below, to trigger a cut in the policy rates.

Higher interest rates puts pressure on economic growth by reducing consumption, increasing savings and slowing down investments due to higher borrowing costs.

However, growth has continuously fallen below expectations in recent years, due to political upheavals, policy uncertainty, and natural disasters.

Despite this, Dr. Coomaraswamy said that the past practice of loosening rates to spur growth won't be followed.

"There is always a tendency when growth becomes subdued to think of loosening macroeconomic policies. And that's completely the wrong thing to do, because then, as I keep saying, you get an artificial boost involved, which from day 1 is unsustainable, and it's only a matter of time before you get inflation and you get balance of payments pressure. So there is no short cut," he said. (CW)
---
CB cuts growth forecast for third time this year

For the third time this year, the Central Bank yesterday revised Sri Lanka's growth prospects for 2017, giving a projection of no more than 4.5 percent, with downside risks attached to this figure, due to circumstances beyond their control.

"We think it will be no more than 4.5 percent, and there are some downside risks to 4.5 percent. And that's to a significant extent, due to weather related disruptions," Central Bank Governor Dr. Indrajit Coomaraswamy said yesterday.

He had earlier this year given a 5 percent growth projection, and last month had revised it down to between 4.5-5 percent. Prime Minister Ranil Wickremesinghe, speaking at the Central Bank just last week, had also stated that the growth rate for this year would be around 4.5-5 percent.
Last year, the International Monetary Fund had given a 4.8 percent growth projection for Sri Lanka in 2017, after the economy grew at 4.4 percent in 2016, due to weather induced damages.

The government's ambitious target is for the economy to grow at around 6-7 percent each year, for the country to become a high-income economy within a single generation.

However, it has been criticized for not managing weather related risks, despite the country experiencing consecutive droughts and floods in recent years, which result in the loss of lives, and hinder economic growth.

The supply side disruptions caused by inclement weather had contributed to the increase in inflation earlier this year, and not due to increased consumption, which is a key determinant of growth. Increase in value added tax (VAT) will also push growth up, due to increases in price levels.

Meanwhile, exports, which had decreased last year, grew by 4.3 percent in the first 5 months of this year, on the back of tea, fisheries and other agricultural exports, contributing to growth. However, imports expanded at a higher rate of 12.6 percent in the same period, causing concern.

"The current account of the balance of payments is actually going to come off worse than we expected, once again due to factors beyond our control," Dr. Coomaraswamy said.

He noted that increased importation of rice, sugar and other commodities required due weather induced contractions in local production would be felt significantly. The country's fuel import bill is also going as reservoir levels required to generate hydro power have fallen, compelling Sri Lanka to depend more on thermal power.

However, service exports are supporting growth, especially tourism—albeit slower growth so far in 2017 due to renovations at the country's main airport during the first three months of the year.
Meanwhile, government expenditure has increased by over 15 percent for the first 5 months of this year, mainly through spending on infrastructure, although recent policy decisions show that the government will be providing further fiscal stimulus to help people recover from weather related hardship.