---
Ban cruise disembarkation to hit hard on retailers and hoteliers
21 cruise ships scheduled for March, 11 more for April
All passengers from Italy, S. Korea and Iran to be subject to 14-day quarantine
SLAITO and THASL to meet tomorrow to discuss way forward
By Nishel Fernando
Sri Lanka tourism braces for yet another setback amid the country's health authorities banning the disembarkation of tourists from cruise ships while imposing a 14-day mandatory quarantine for all passengers arriving in Sri Lanka from Italy, South Korea and Iran as a precautionary measure to fight deadly coronavirus.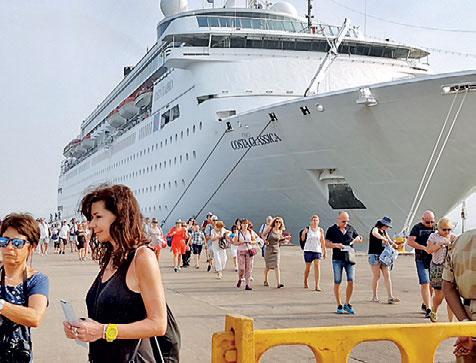 The Health Ministry Yesterday announced that foreigners arriving in Sri Lanka by passenger ships would not be allowed to disembark immediately due to coronavirus risks.

"We were informed that cruise passengers and crew members are prohibited to disembark from passenger ships until further notice. There are almost 21 vassals scheduled for March. We have already informed the respective firms to inform their principals," a top Sri Lanka Port Authority (SLPA) official told Mirror Business.

In addition to the 21 cruise ships scheduled to arrive in Sri Lanka this month, another 11 cruise ships were scheduled to arrive in Colombo in April.

A leading tour operator noted that Sri Lanka could lose 10,000-15,000 tourists due to the ban during the two months.

"This could have a fair amount of an impact, because we were expecting a number of cruise ships to arrive in Sri Lanka in forthcoming weeks. Around 10,000-15,000 cruise passengers who were to come to Sri Lanka from March to April wouldn't be allowed to disembark now," he added.
The industry expects that the ban would in particular impact the retailers, hoteliers and other tourism service providers in Colombo.

Due to the disembarkation ban, one of the largest cruise ships carrying over 4,000 passengers and crew has changed their plans to dock in Port of Colombo yesterday.

The vast majority of cruise ships arrive in Sri Lanka between February and April.

Meanwhile, inbound tour operators expect the 14-day mandatory quarantine period announced for all passengers arriving in Sri Lanka from Italy, South Korea and Iran would lead to mass cancellations.

Sri Lanka attracted 36,147 tourists from Italy and 12,195 tourists from South Korea in 2019.

Italy's coronavirus death toll rose to 52 on Monday with over 2, 000 cases being reported and South Korea has reported 4,812 cases and 34 deaths.

"This will also be a major setback for us. It's a big blow to the tourism industry. I don't think we can reach our targets; there will be a further decline this year," a key tourism official lamented. Sri Lanka Tourism Promotion Bureau (SLTPB) expects to attract 2.3 million tourists to Sri Lanka this year. However, the tourism industry believes that the target cannot be met due to ongoing developments.

Tour operators noted that there is a significant slowdown in new bookings so far in the range of 10-40 percent.

"The current trend is that many travellers are not making any bookings. With these travel restrictions coming in, it will hamper the growth and will lead to a fair amount of cancellations," a tour operator said.

Tourist arrivals from China have already declined sharply. Arrivals from that country declined 15 percent year-on-year (YoY) in the peak month of January, and over 90 percent YoY decline is forecasted for February.

Sri Lanka Association of Inbound Tour Operators (SLAITO) and The Hotels Association of Sri Lanka (THASL) are scheduled to meet tomorrow to discuss the way forward for the industry, which is still recovering from the Easter Sunday deadly attacks in April 2019.

Industry stakeholders are likely to offer promotional packages to tourists from next month when the winter season ends.

SLAITO and SriLankan Airlines are already working on promotional packages for Indian tourists.

Further, hoteliers are also expecting to offer promotions targeting local tourists when their occupancy levels plummet following the winter season.