---
By Supun Dias
'Daily' one of the pioneers in Ultra Heat Treatment (UHT) fresh milk production celebrated its
20th anniversary recently at a grand function held recently at Heritance Negombo.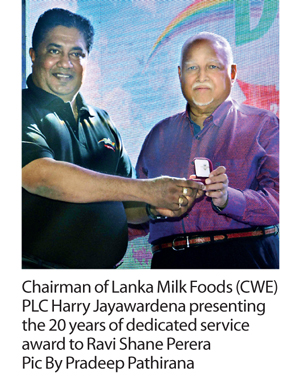 'Daily' flavoured milk range is produced by Lanka Dairies (Pvt) Limited, a subsidiary of Lanka Milk Foods (CWE) PLC which was launched in 1996. The range, which began with Vanilla and Chocolate, then it added the Strawberry and Banana flavours the following year and now it has Iced Coffee and Faluda, especially produced and marketed for the energetic youth of the country.
Director Operations of the Lanka Milk Foods, Harischandra explained that several factors were considered before Lanka Dairies decided to develop flavoured milk drinks.
"When we began our operations, only 10 percent of Sri Lankan households were refrigerated. The retail stores with refrigeration were mostly concentrated in and around Colombo and even here; there was no guarantee that the right temperature would be maintained. So first of all there were storage and transportation issues. We also wanted to provide and make available nutritional needs to build a healthy nation," he said.
This is why one of the first things we did was to invest in an UHT plant with aseptic packaging machinery. It was the first in Sri Lanka and it enabled us to come up with a ready-to-drink product in a six layer Tetra Pack that had a shelf life of 6 months and most importantly did not require refrigeration. Furthermore, the aseptic package preserve freshness and nutrition, is safe to use, is tamper evident, hygienic in use with a sterilized straw and also more environmentally friendly," he noted.
After the Company acquired the Ambewela Farm in 2001 it was able to use single-source milk. He said that Ambewela is unique as it has an integrated supply chain which ensures the highest levels of freshness possible. For example, our milk products are made of the yield of our own cows. This means that the milk goes direct from the udder to the processing plant.
The company thanked its customers and dealers who have made 'Daily' a great brand since its inception in 1996, and supported throughout for generations, the journey continues with the mission of building a healthier nation.