---
Says seeing pent-up demand; Maldivian bookings better than last year
Lankan resorts near break-even levels due to domestic tourism
John Keells Holdings PLC (JKH) says winter forward bookings at its resorts and hotels in Sri Lanka and Maldives are reaching pre-COVID-19 levels indicating a pent-up demand.
"If you look at the winter season (December-March), you are seeing bookings somewhat close to last year's figures. In fact, in Maldives, we are seeing better than what we had last year," JKH Deputy Chairman Gihan Cooray told an investor forum in Colombo this week.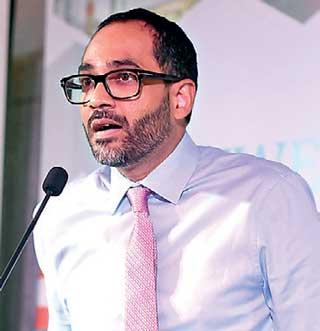 Gihan Cooray
Pic by Kithsiri De Mel

However, he emphasised that the respective governments have to work on building conducive ground situations to attract these tourists who have shown their willingness to travel to the two destinations.
"For that to realise into real numbers, the ground situation has to be conducive, but ultimately it shows that there is pent-up demand at this moment and once the ground situation settles, people would like to come," he added.

Cooray further noted that overall recovery of the leisure sector would depend on global developments such as a COVID-19 vaccine.

Meanwhile, he said JKH is on the verge of achieving break-even levels in its resorts by attracting domestic tourists. City hotels meanwhile remain impacted although revenue from beverage and banquet activities improved closer to levels seen in the last year.

"That's very encouraging and helping to reduce the cash burning rate in the leisure sector," he said.

JKH has eight resort hotels in strategic tourist destinations accounting for 10 percent (1,022 rooms) of the country's 4-5 star class tourist accommodation market and also has four resort properties in the Maldives (454 rooms).

Further, JKH has two five-star city hotels in Colombo with 847 rooms and manages the 240-key lean luxury hotel Cinnamon Red.

JKH is also a leading inbound tour operator in Sri Lanka and its partners include global players such as Kuoni, Hotel Plan and Virgin.

Cooray noted that the leisure sector is the most impacted sector of the diversified conglomerate as other business verticals are already on the way to pre-COVID levels. (NF)