---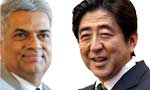 Japanese Prime Minister Shinzo Abe had sent a congratulatory message today to Prime Minister Ranil Wickremesinghe following his swearing in as the Prime Minister.
While sending a message, the Japanese Prime Minister felicitated Ranil Wickremesinghe upon his reappointment as the Prime Minister and stated his intention to work closely with the new government to further develop the Japan-Sri Lanka relationship.
He said Japan would continue to support Sri Lanka's efforts towards economic development and national reconciliation.