---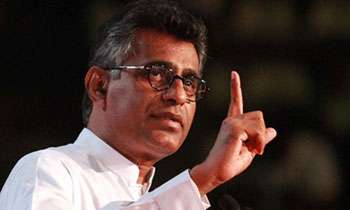 Despite the organized protest campaigns led by the civil societies and the interested political parties, the Megapolis Ministry will continue with the construction of technology cities, Daily Mirror learns.
On Tuesday, the Movement for protecting Homagama People's Rights carried out a protest march from the Fort Railway Station against the Technological City Development Project that is to be launched in the areas like Malabe, Athurugiriya, Kaduwela, and Homagama.
It was observed that the Inter University Students' Federation (IUSF) members led by its Convener Lahiru Weerasekara were commanding the rally.
Speaking to Daily Mirror, Megapolis and Western Development Minister Champika Ranawaka said that through the project there will be a huge revolution in the country's economy.
"I strongly deny any claim of negativity to the people, the area or the country through this project. Some quarry owners and the Front Line Socialist Party with political motives are behind these moves. Inter University student movements are provoking the residents of the area against this. When we explained the benefit of the project, the residents agreed with us," Minister Ranawaka explained.
He further said that technology faculties belong to four state universities, a space centre, Nanotechnology Institute and many other research and knowledge centres would be established in the area under the project.
Minister revealed that the Asian Infrastructure Investment Bank had agreed to develop the infrastructure facilities in the area while the entire design plan was done by the Korean project authorities for free of charge.
As such Ranawaka said that it is the residents and the youth of the country who will benefit of this project. (Thilanka Kanakarathna)