---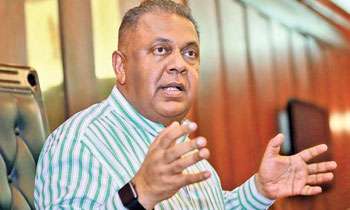 Finance and Media Minister Mangala Samaraweera said today he would not have given the concessions given in January 2015 if it was he who had been finance minister at that time.
He told a media briefing that in any case he would not disassociate himself with the decision to give concessions by this government of which he was also a minister.
"What we inherited from the previous government's crony capitalist system was a fiscal time bomb," the minister said and admitted to the fact that most of the MPs had imported vehicles by the time the government had decided to suspend duty-free vehicle permits.
The minister said the government would have to re-visit the need if any for the vehicle permit system any longer. He said by October this year 1.4 million LCs had been opened for the import of vehicles and some 1.6 million vehicles were to be imported.
"At this rate, Sri Lanka no doubt, will experience a vehicle tsunami," the minister said and added that it was essential for Sri Lanka to adopt an export driven economy and would submit with more proposals to control imports and enhance exports in the wake of the rupee devaluation.
"There are false notions on the rupee devaluation. It would not have been too bad if the country was not affected by a debt burden as it is the case at present," he said and underscored the fact that the country's debt servicing would amount to Rs.4 trillion during the next two years.
The minister said the releasing of dollars from our reserves was not an effective solution to devaluation and citing an example he said the rupee was devalued by 14 per cent despite the decision taken by the previous regime to release US$250 million from the reserves.
He said the Indian rupee has devalued more than the Sri Lankan rupee though India had released $40 billion from its reserves.
Moving on to politics, the minister said the report that efforts were being made to form a interim government was a story fabricated and planted by the opposition to scare off investors and pointed out that such a government was a day dream of the 16 SLFP dissidents who had crossed over to the opposition. (Yohan Perera)
Video by RM