---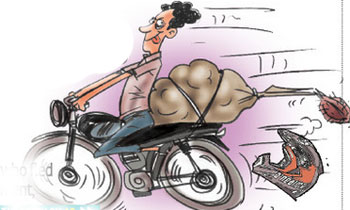 It is reported from Saliyawewa Kandauda of a motorcyclist who fled with a bag of 20 Coconuts worth Rs1,600 without making payment, forgetting his Helmet worth Rs 2000, in the rush.
As related by the shop owner, a middle aged motorcyclist who visited his shop had inquired about the price of Coconuts that were for sale at the shop. The shop owner's wife had stated each coconut was Rs 85. The motorcyclist had sought a reduction in price saying that he is taking them for a religious function.
Having made the bargain at Rs 80 each the Coconuts were packed into an empty fertilizer bag by the shop owner's wife neatly tying the bag with a coir rope. After placing the bag of coconuts in the pillion and safely securing it with another rope, had requested for 5 kilos of rice as well.
No sooner the wife of the shop keeper went inside to weigh the rice, the motorcyclist has started the bike and fled towards Anuradhapura.
In his mighty hurry the motor cyclist had left his helmet worth Rs 2000 on the cement wall of the shop.(Jayarathne Wickramarachchi)