---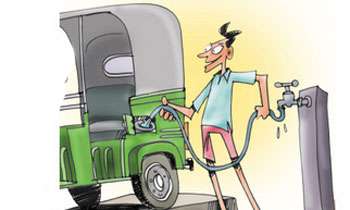 A brand new trishaw was gifted by a man to his son for his birthday although he did not possess a driving license neither did he have the ability to drive the vehicle.
Therefore his son went to a driving school with the idea of leaning how to drive. In the meantime his father drove the vehicle.
The boy learnt the basics of driving and was even given a thorough training on vehicle maintenance at the driving school. After he returned home he decided to put his vast knowledge into practice and started to check the vehicle paying particular attention on the battery, coolant that was used as well as whether there was sufficient air in the tyres.
As the lecturer instructed him, he searched for the place where the water was added and discovered that there was no place to put the water to cool the engine. He was now faced with a dilemma. He read the manual from top to bottom but there was nothing about the cooling system in that manual. He contacted his best friend and told him his problem. His friend, who liked to pull pranks on his friend now and then, advised him to put the water into the petrol tank and to fill it up. He took his friend's advice and filled up the petrol tank with water. When his father came back, he told him what he had done. When questioned by his father on where he got this idea from he admitted that he was just following advice given to him by his friend. The boy's father had to break the news to him that he had been taken for a ride by his friend. The man then got a friend who was a mechanic to come and remove the water from the petrol tank and put the vehicle back in order.(Pushpakumara Mallawaarachchi )