---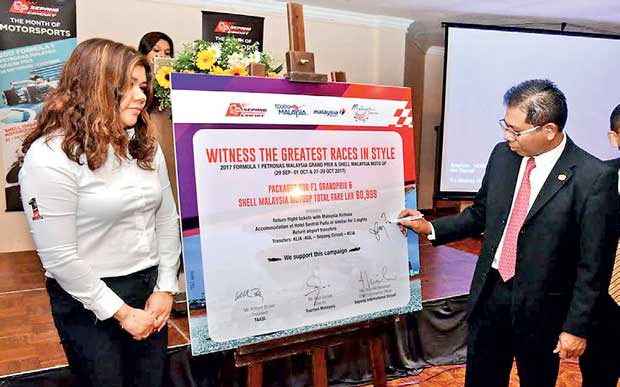 By Supun Dias
In line with the 19th edition of the F1 Petronas Malaysia Grand Prix, Tourism Malaysia, Sepang International Circuit and Malaysian Airlines are offering attractive air fares and packages at unprecedented prices for Sri Lankan fans.
The races will be held from September 29th to October 1st. This year, similar to 2016, the race is scheduled closer to the end of the season as the 15th race in a 20-race calendar, right after the Singapore Grand Prix. Malaysian Airlines is offering the special air fare package starting at Rs.60, 999.
Malaysian High Commissioner to Sri Lanka Wan Zaidi Wan Abdullah said that this is a tremendous opportunity for Sri Lankan tourists to watch the Malaysian Grand Prix.
"I thank SIC, Tourism Malaysia and Malaysian Airlines for making such arrangements to promote the Malaysian F1. Sports fans in Sri Lanka have begun to embrace the excitement of motorsports in the recent years," he said.
Speaking at a media briefing held at Hotel Galadari, the High Commissioner noted that fans can also take the opportunity to enjoy Malaysia's year-long equatorial climate by combining their race weekend experience with a tropical getaway in
beautiful Malaysia.
CEO of SIC Dato Razlan Razali said that in recent years high ticket prices have resulted in a drop in the number of fans skipping the races in Sepang. "Therefore we came up with this new strategy of offering unprecedented rates to our fans in Sri Lanka and India to watch the races. In the past, maintaining strong spectator numbers has been a challenge, so we hope this new pricing structure will enable all fans to watch the race live from the circuit," he added.
Director of Tourism Malaysia (South India and Sri Lanka) Noor Azman Samsudin said that Sri Lankan tourists are mostly welcome for the event and family-oriented activities surrounding the F1 Malaysia Grand Prix will make the race weekend a great time for a family outing as well.
Standard ticket prices for the 2017 Formula 1 Petronas Malaysia Grand Prix range from Rs. 2009.92 (RM58.68) for a Hillstand K2 ticket to Rs. 21,019.86 (RM613.68) for a Main Grandstand ticket making this the most affordable F1 race in the world! This year, it will be free seating on a first come first served basis at the Main Grandstand, F Grandstand and K1 Grandstand areas.
With no numbered seating, spectators will be able to move about within the respective grandstand areas during race weekend. Meanwhile, all fans with disabilities can purchase special tickets for Main Grandstand seating at Rs.10, 564.39(RM308.43).
New Mercedes, Ferrari and Red Bull Racing Team Tribune packages with numbered seating are also available at Rs.45,732.80 (RM1,335.18).
With its distinctive 15 turns and 8 straights coupled with Malaysia's notoriously humid weather and torrential storms, the track in Sepang has challenged many of the world's best F1 drivers. The circuit's design also offers great views from the spectator seats, which will be further enhanced for Main Grandstand ticket holders, as they are now allowed to move about within the Main Grandstand Zone.